While the famed castrato Farinelli may be the first man ever featured on the
Pop Culture Institute
with no balls*, one should never mistake the lack of testes for a lack of manhood**; not only was Farinelli an acclaimed operatic singer, he was also a kind of a human bed warmer, taken to more aristocratic bosoms than perfume and/or diamonds, specifically because he practiced the ultimate form of contraception...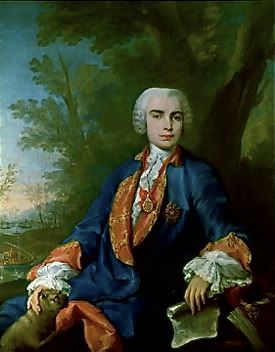 Born on this day in 1705, as a boy he moved with his family moved to Naples where he attended the Conservatory of Santa Maria di Loreto; there, under the tutelage of
Nicola Porpora
, it was intended that the boy would study to be a composer. However, his father's early death seems to have prompted his castration, whereby he could become a singer to support his family. In that era, as many as 4,000 boys a year underwent the procedure in hopes that they would become famed singers, which puts the whole boy band mania of our times into perspective.
Farinelli's career trajectory was steep; he moved from Rome to Vienna to München, and all around Italy in the process, during which tours he was hailed by fans and composers alike, and even received by royalty. In very real terms, Farinelli was the first rock star; everyone wanted to work with him for his virtuosity, which is the same reason so many others seemed to want to sleep with him.
One person who perhaps fit into both categories was the composer and noted whoopsie
George Frideric Handel
, whose attempts to lure Farinelli to London were intermittently successful; still, the divo seems to have preferred Paris and Madrid, where he settled in the court of
Philip V
in order to try and cure the King's serious depression. In August 1737 Farinelli was named a
criado familiar
(an honorary member of the Royal Family) and thereafter never sang in public. Nine years later, Farinelli's influence at court increased upon the accession of
Ferdinand VI
; following the subsequent accession of
Charles III
in 1759, music fell from favour at the Spanish court, and suddenly Farinelli was out of a job. He retired to Bologna with a generous pension and, while he received many famous visitors there, grew lonely - having outlived most of his contemporaries.
Farinelli died in September 1782, following which his remains moved around a bit due to the vagaries of war; he was last
disinterred in 2006
so scientists could study his vocal mechanism via bone structure and DNA. A
1994 biopic
,
Farinelli
directed by
Gérard Corbiau
and starring Stefano Dionisi (voiced by
Derek Lee Ragin
), was released to much art-house acclaim, just as a resurgence in the countertenor was occurring; the countertenor voice is the closest to the castrato, and the spontaneous appearance of numerous performers skilled in it in the 1990s allowed for a rebirth of interest in Baroque opera, although it meant that the women who had been playing these so-called 'trouser roles' had to go back to playing female characters.
*Even though, in saying so, I've passed up an awesome opportunity to slander Canadian Prim(e) Minister Stephen Harper who, it should be noted, must have a Hell of a pair to have even tried a tenth of the crap he has.
**Since we all know it's the cock that determines manhood - which is why it's called 'the manhood', duh!

*
share on:
facebook