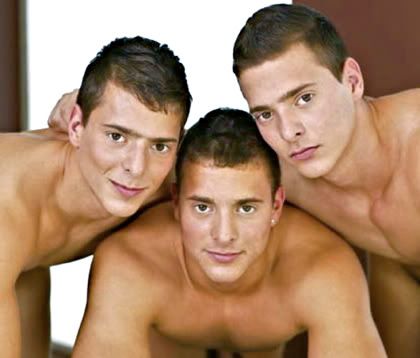 Inasmuch as 'progress' can be said to occur in porn, the amount of progress in gay porn easily, uh,
outstrips
that of straight porn; to whit, the Visconti triplets, the identical Hungarian trio depicted above, who are doing their utmost to cast aside the only remaining taboo in porn - namely that of incest. So while like their predecessors in brotherly love, the super-hot Odyssey Twins (Gabriel and Oscar), they don't actually do anything with each other - yet... - the fact that they are identically hot and identically inclined gives their group scenes a certain quality missing from others which are similar - at least for a Grade-A perv like me.
Jason, Jimmy, and Joey initially felt they'd be reluctant to appear in scenes together; having done their first few, though, they now claim to feel more comfortable in scenes together than apart. The
Pop Culture Institute
is grateful for this new development, and can only hope their growing comfort in front of the camera ensures them a long, productive career. Given that today marks their 21st birthday, that seems like a very likely thing indeed...
*
share on:
facebook