Although Jack Benny's career began at the height of vaudeville, the success he had there left him ideally situated to be intimately involved in the foundation of each of the three new media that would eventually replace it - namely radio, television and (to a lesser extent) movies; unlike so many of his former colleagues, though, rather than washed up by the early 1930s when vaudeville was, he was still building momentum...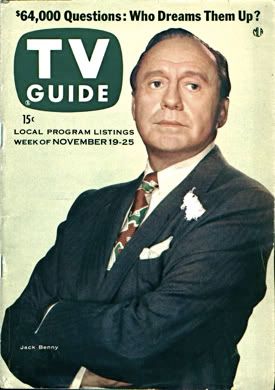 Born on this day in 1894, as a child Benny was trained in the violin, which would become his foremost prop in later years. Whenever his trademark low-key humour failed to impress out would come the violin, and after a few minutes of sawing away on that hapless instrument he'd have the audience right where he wanted them again - namely doubled over laughing. Despite this act of his, Benny was a very accomplished violinist indeed, and when he wanted to he could use it to easily wring a tear from even the most jaded eye.
Of course, Benny's comedic gifts were so subtle I can scarcely believe they worked in vaudeville, and so visual besides they would've been rendered impotent on radio as well; where Benny chiefly benefited was in having a certain command over (and an audience in) multiple forms of media at once - meaning radio audiences could easily visualize his rolled eyes and his slow burn, having seen them so often on stage or in film...
By the time
The Jack Benny Program
became one of the first sitcoms on CBS-TV in October 1950 it had already been on the radio for 18 years, a generation of broadcasting that had transformed a once-minor vaudevillian into a media institution, and even aided in the assistance of the sitcom genre; in many ways, Benny's show was a lot like
Seinfeld
- the main character had the same name as the star, and lived a vaguely similar life, whereas like his future counterpart in reality both the character and the life he led on camera were actually an inversion of the truth.
Unlike many stars, who took the funniest lines for themselves, Benny played a kind of mannered straight man off of whom everyone else could play - making him an incredibly generous and rare kind of performer indeed. As a result Benny's co-stars - his real-life wife
Mary Livingstone
, announcer
Don Wilson
, hapless tenor
Dennis Day
, friend and confidante
Eddie 'Rochester' Anderson
, as well as his on-air rival
Fred Allen
- were all as hugely popular in their day as the man himself.
Having comported himself with grace and dignity for more than 60 years, Jack Benny died in December 1974, having passed on a role in the film version of
Neil Simon
's
The Sunshine Boys
- a role that would ultimately earn his longtime friend
George Burns
an Academy Award.
*
share on:
facebook