1861
-
Texas
seceded
from the United States, but didn't join the
Confederate States of America
until March 2nd - at which time its governor,
Sam Houston
, was replaced for refusing to take an oath of allegiance to the Confederacy.
1865
- President
Abraham Lincoln
signed the
Thirteenth Amendment
to the US Constitution, which outlawed slavery; it also banned involuntary servitude, except as punishment for a crime. Sadly, this highlight of Lincoln's life occurred on the 15th anniversary of the death of his second son by First Lady
Mary Todd Lincoln
,
Edward Baker Lincoln
.
1893
- Inventor
Thomas Edison
completed work on the world's first motion picture studio in West Orange, New Jersey; films produced at the facility were supervised by
William Kennedy Dickson
.
1913
- New York City's
Grand Central Terminal
- the world's largest train station - was opened.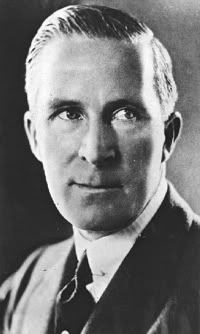 1922
- Film director
William Desmond Taylor
was found murdered in his bungalow at the Alvarado Court Apartments in the
Westlake Park
area of downtown Los Angeles; so popular in life was he that there were a dozen possible suspects, including his former manservant
Edward Sands
, his current manservant
Henry Peavey
, actress (and possible lover)
Mabel Normand
, Faith Cole MacLean (the wife of actor
Douglas MacLean
, who were his neighbours),
Charles Eyton
(General Manager of
Paramount Pictures
and therefore Taylor's boss), actress
Mary Miles Minter
(whose career Taylor guided in and out of the bedroom), Minter's mother
Charlotte Shelby
, and
Margaret Gibson
- who, on her deathbed in 1964, confessed to having committed the murder.
Gore Vidal
's
1990 novel
Hollywood
features a fictionalized account of the Taylor murder, and for those who prefer an even more lurid and yet less accurate perspective, try
Kenneth Anger
's
1959 book
Hollywood Babylon.
Despite the impressive line-up of suspects the case remains unsolved.
1960
- Four black students -
Ezell A. Blair Jr.
(now known as Jibreel Khazan), David Richmond, Joseph McNeil, and Franklin McCain - staged the first of the
Greensboro Sit-Ins
at a lunch counter in Greensboro, North Carolina.
1978
- Film director
Roman Polanski
skipped bail and fled to France following his arrest and
guilty plea
for the statutory rape of 13 year-old Samantha Gailey.
1992
- A Chief Judicial Magistrate in India declared
Warren Anderson
, the ex-
CEO
of
Union Carbide
, a fugitive under Indian law for failing to appear in the
Bhopal Disaster
case.
1996
- Congress passed the
Communications Decency Act
, protecting Americans from the kind of smut that makes life worth living.
1999
- 22-year-old former
White House
intern
Monica Lewinsky
gave a deposition that was videotaped for senators weighing
impeachment
charges against President
Bill Clinton
.
share on:
facebook