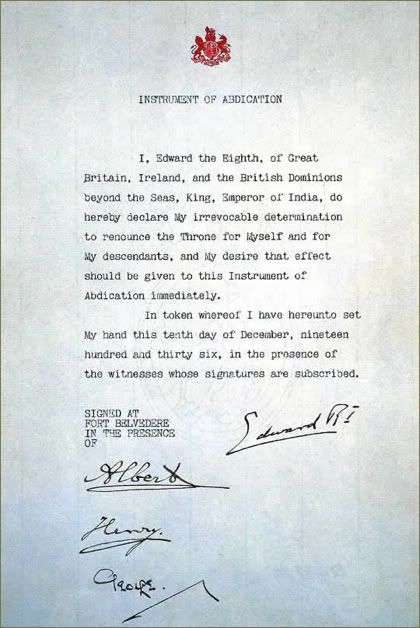 On this day in 1936 England's Kind
Edward VIII
signed the so-called Instrument of Abdication, clearing the way for him to renounce his throne in order to marry the twice-divorced American,
Wallis Simpson
.
Signed at His Majesty's home,
Fort Belvedere
, and witnessed by his three brothers - Prince Albert, Duke of York (who succeeded him the following day as
George VI
),
Prince Henry, Duke of Gloucester
, and
Prince George, Duke of Kent
- it wouldn't take effect until the following day, after a special Act of Parliament (
His Majesty's Declaration of Abdication Act 1936
) was given
Royal Assent
. Given the unique structure of the
Commonwealth of Nations
under the
Statute of Westminster
, each independent Dominion was required to give its own consent, which is what happened. Among the machinations involved in this process was a move by the
Irish Free State
to rid itself of all references to the Crown in exchange for the required unanimity.
*
share on:
facebook