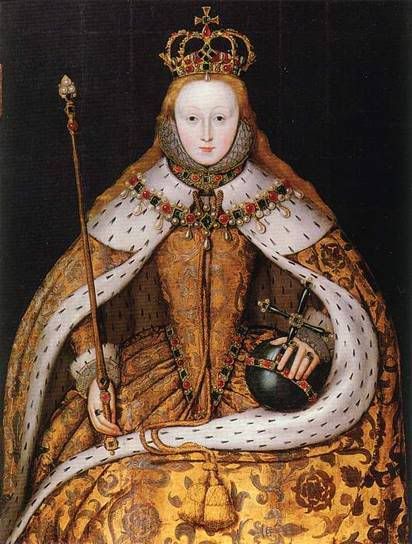 Given the years of uncertainty that had preceded it, by the time the 25-year-old Elizabeth attained the throne following the death of her half-sister
Mary
she must have felt like the most vindicated person in the entire kingdom. From the sumptuously appointed Royal Apartments at the
Tower of London
- where her mother
Anne Boleyn
had slept the night before her execution and where Elizabeth herself had spent time as a prisoner - she rode out along the
Strand
to
Westminster
to show herself to her people, by tradition, on the day before her coronation.
Pausing beside the royal menagerie as she departed
Tower Hill
, for the crowd's benefit she compared herself to Daniel in the Lion's Den, a fitting metaphor for her life thus far, and (as it turned out) equally apt for the life she was about to undertake. Five pageants were performed for her benefit along the way - at
Gracechurch Street
,
Cornhill
, Soper's Lane, Little Conduit in
Cheapside
, and
Fleet Street
- and at each one she stopped the procession to watch; when each was done she offered her thanks and praise, which was inevitably met with cheers by the mighty crowds.
At the suggestion of Lord
Robert Dudley
(Elizabeth's newly appointed
Master of the Horse
and one of her favourites at court) the date of her coronation - January 15th - had been carefully chosen by the noted astrologer Dr.
John Dee
as the most propitious; given the way history played out (Elizabeth's reign would stretch to 45 years, one of the longest) it was one of the rare times Dee had been right. As for the coronation itself, the rite was laid out in the
Liber Regalis
, which didn't stop the Queen from adding her own reforming touches.
Owing to a sudden dearth of clergymen - some too old, some too Catholic, some too dead - the service would be conducted by
Owen Oglethorpe
, the Bishop of Carlisle, and one of the most junior clerics in the realm. There was tension between them; she had stormed out of a service he officiated three weeks earlier on Christmas morning because it had been too Papist. Suitably chastised, he behaved himself thereafter.
When her procession departed from
Westminster Hall
on this day in 1559 she was lavishly outfitted in her 'Parliament robes' of crimson; by the time she arrived at
Westminster Abbey
a short time later she was in tatters, her robes having been cut to ribbons by well-wishers seeking a good luck token. Once there she changed into golden robes for the coronation itself...
A coronation is a solemn enough religious ritual in itself, but there is every indication that Elizabeth regarded it as nothing short of a wedding to her people; having recently lived through her predecessor's disastrous (and disastrously unpopular) marriage to
Philip II
of Spain, not to mention her own recent entanglements with
Thomas Seymour
(the husband of her stepmother
Catherine Parr
) Elizabeth's resolve to remain unmarried in the traditional sense seems to have hardened early.
In due time she was anointed, then finally ornamented, appearing much as she does in the portrait above; once she was crowned she again exchanged her robes (this time for purple ones) and returned to
Westminster Hall
for the obligatory sumptuous banquet. Following the sombre occasion of the coronation, throughout the remainder of the evening she was laughing and joyous - which while it offended the older members of the nobility, gave her people immense pleasure, and they loved her for it.
Though it was her determination to rule by wise counsel, she knew well enough that it was the people for whom she reigned, and she always made sure they knew it as well.
*
share on:
facebook