It's highly unlikely that when Ivor Novello was born - on this day in 1893 - he was the only gay in the village; even though the village in question was
Cardiff
and not
Llanddewi Brefi
, someone was always drilling a new shaft down the valleys in those days, so it's quite likely that by the time he got to Oxford's
Magdalen College
the handsome Welshman had likely already been well-fagged...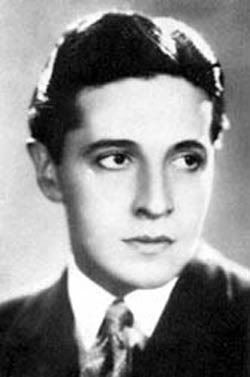 Novello attained his initial prominence during the First World War, when his song
Keep The Home Fires Burning
warmed many a parlour throughout the Empire. Then, even more than now, patriotism was the best defense against scandal; Novello's affair with
Siegfried Sassoon
had tongues wagging - occasionally even with gossip - and for 35 years Novello maintained a relationship with
Bobbie Andrews
both at home and at work.
Shortly after the end of hostilities, Novello embarked upon a movie career, appearing in two early films by
Alfred Hitchcock
,
The Lodger
(1927) and
Downhill
(1927). In the great British tradition, he thereafter alternated between movie and stage roles.
During World War II, when scandal finally caught up with him, it wasn't a rendezvous with a guardsman in
Green Park
that brought him low but an abuse of petrol coupons, for which he served four weeks in jail alongside the violent gangster
Frankie Fraser
. Accustomed to a life of luxury, after his release friends said Novello was never the same. He died of a coronary thrombosis in March 1951.
Novello's memory lives on; the annual
Ivor Novello Awards
honour songwriting in Britain, and as recently as
Robert Altman
's
2001 film
Gosford Park
Novello was portrayed by
Jeremy Northam
.
*
share on:
facebook