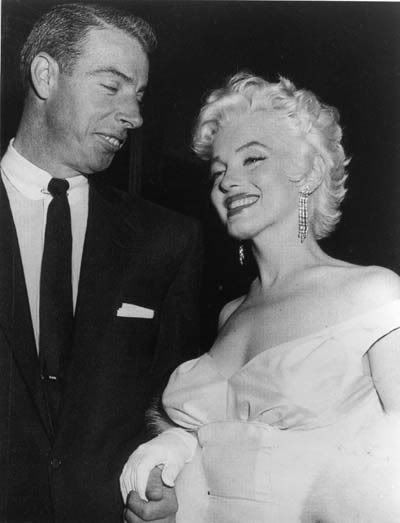 It is said that love is blind, but on this day in 1954 love also had to be deaf, for it was on just such a day that newly-retired baseball hero
Joe DiMaggio
married up-and-coming screen goddess
Marilyn Monroe
at
San Francisco City Hall
. There were howls of derision from every corner at the announcement that they had eloped - and this was in the days before the blogosphere!
Almost instantly, everything went wrong; in February, while on honeymoon in Japan, Monroe was invited to perform for American troops in Korea. She gladly went, and there worked her magic; DiMaggio, meanwhile, stayed behind in Japan and fumed while his bride - despite crippling stage fright - performed ten legendary shows for 100,000 soldiers over four days in subzero temperatures.
Not that he was ever out of the loop; wherever Marilyn went cameras followed, and her every move was reported as breathlessly as anything she performed in her act. By the time she filmed her famous scene over the subway grate in front of New York's Trans-Lux Theater in September 1954 (for
Billy Wilder
's classic
film
The Seven Year Itch
) the marriage was effectively over, done in as much by his jealousy as her ambition.
The filming was entirely a publicity stunt, and quickly became a media circus; the scene eventually used in the movie had to be recreated in a studio as the crowds on the corner of 52nd Street and Lexington Avenue that night were vociferous in their admiration for that blondest of bombshells. DiMaggio, accompanied by
Walter Winchell
, stood by and glowered; every time her skirt blew up he looked away in disgust. The newlyweds later exchanged heated words in the lobby of the theater and he left early; she stayed and doled out smiles a-plenty to the crowd she'd drawn.
Marilyn and Joe's own seven-year itch proved to be a 274 day itch; Marilyn filed for divorce in October on the grounds of 'mental cruelty'. Still, the couple remained close until the day Marilyn died in August 1962, and for his part Joltin' Joe never kissed and told, taking their secrets to the grave with him in March 1999 despite numerous and increasingly lucrative offers for their story.
*
share on:
facebook