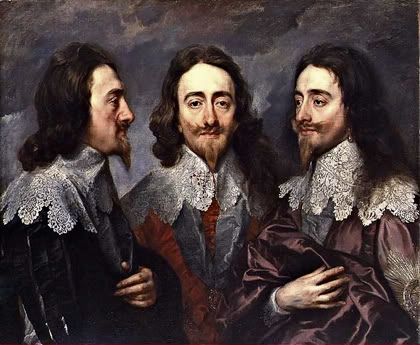 [Anyone who thought they could be well and truly rid of Charles I by executing him was wrong wrong wrong. Not only was His Majesty eventually canonized by the Church of England in 1660 - the same year the monarchy was restored under his son, Charles II - as well as being the only person canonized by the Church of England after the Reformation, he is today honoured by the Society of King Charles the Martyr,

and

remains one of England's most frequently depicted kings specifically because if the way he died. This famous 'Triple Portrait' of him was painted

circa 1636, just one of many made of him

by Sir

Anthony Van Dyck; not only was he the subject of the 1845 novel Twenty Years After, by Alexandre Dumas,

Charles I has been portrayed in the 1970 film

Cromwell

by

Alec Guinness

, by

Stephen Fry

in

Blackadder: The Cavalier Years

, and by

Rupert Everett

in 2003's

To Kill a King

.

]
1181
- Emperor
Takakura
of Japan died, having abdicated the previous year in favour of his successor, an infant son who became Emperor
Antoku
.
1649
- England's King
Charles I
was
beheaded
on a scaffold outside a building he himself had commissioned, the
Banqueting House
of the
Palace of Whitehall
.
1661
- The corpse of
Oliver Cromwell
was executed - two years after he died - for his role as a regicide in the death of England's King Charles I; the date was purposely chosen, as it was the anniversary of the murder of Charles I.
1826
- The
Menai Suspension Bridge
, designed by
Thomas Telford
, was opened; dramatically situated over the
Menai Strait
between
Anglesey
and 'mainland'
Wales
, it stands today as a tribute to the engineering prowess of its creator.
1835
- The first
attempted assassination
of an American president occurred when
Richard Lawrence
, a mentally ill man (possibly poisoned by lead), tried to shoot
Andrew Jackson
for preventing him from becoming King of England; Lawrence was in turn beaten by the President's cane until he could be subdued by
Davy Crockett
.
1847
- The town of Yerba Buena, California, was renamed
San Francisco
.
1867
- Emperor
Kōmei
of Japan died; he would be succeeded by his son, who reigned as Emperor
Meiji
, on February 3rd.
1889
- Austrian Archduke and Crown Prince
Rudolf
- heir to the dual crown of Austria-Hungary - was found dead with his mistress
Baroness Mary Vetsera
at his hunting lodge in
Mayerling
, both victims of an apparent murder-suicide pact.
1925
- The Government of Turkey threw
Patriarch
Constantine VI
out of Istanbul.
1960
- The
African National Party
was founded in Chad, through the merger of traditionalist parties.
1964
-
Ranger 6
was launched as part of the
Ranger Program
; its purpose was to photograph the lunar surface prior to impacting the surface of the moon, which it did.
1965
- By special decree of
HM The Queen
, Sir
Winston Churchill
was
given
a State Funeral at
St Paul's Cathedral
.
1971
-
Carole King
's
Tapestry
album was released; featuring such classics of Seventies music as
I Feel the Earth Move
,
So Far Away
,
It's Too Late
,
You've Got a Friend
,
Where You Lead
,
Will You Love Me Tomorrow
?
, and
(You Make Me Feel Like) A Natural Woman
it would become the longest charting album by a female solo artist and sell 24 million copies worldwide.
share on:
facebook