Only his royal status kept me from making Felipe, Prince of Asturias, a Gratuitous Brunette today; despite his fitness for the
Pop Culture Institute
's single most dubious honour, I simply couldn't objectify the the third child and first son of
King
Juan Carlos I
and
Queen Sofía
of Spain in that way... Still, all the elements are there, and who in their right mind could deny the charms of a statuesque Spaniard - especially one who will one day be King over all of them? Not a smarmy ass-kisser like me, that's for sure...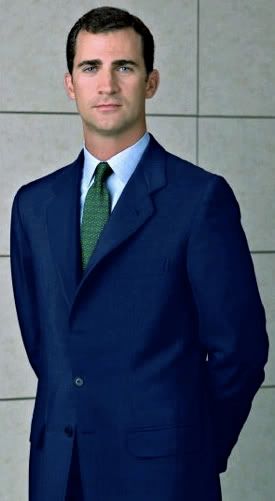 In addition to
Prince of Asturias
, a title borne by every Spanish heir apparent, Prince Felipe is
Prince of Viana
,
Prince of Girona
, Duke of Montblanc, Count of Cervera, and Lord of Balaguer; the tradition of over-titling royal babies is consistent with the tradition of over-naming them, as his full name is Felipe Juan Pablo Alfonso de la Santísima Trinidad y de Todos los Santos de Borbón y de Grecia.
Yet in spite of such a complex entitlement, His Royal Highness seems to have escaped the worst ravages of the entitlement complex. He even went so far as to marry a commoner - and not one of those snooty commoners either, like the daughter of a nobleman, but an honest-to-goodness, went to state-funded schools, lived paycheque to paycheque kind of commoner. More or less...
For all that, though,
Letizia, Princess of Asturias
is far from common, possessing beauty and brains in equal measure. Married in
May 2004
, together they have two children: the Infantas
Leonor
(born in October 2005) and
Sofía
. Despite having himself bumped his own sisters, Infantas
Elena
and
Cristina
, out of the line of succession, the
Spanish Constitution of 1978
may be altered to allow his own daughters to inherit even if a new Prince should subsequently appear. In which case, Infanta Leonor would become the first Queen Regnant of Spain since
Isabella II
abdicated in September 1868.
*
share on:
facebook