Of course, to me she will always be
Carrie Bradshaw
, one of the few writer characters on TV you actually saw writing; but I first saw her in
Square Pegs
, so in my own little twisted pop culture way Patty Greene will always be Carrie Bradshaw in high school...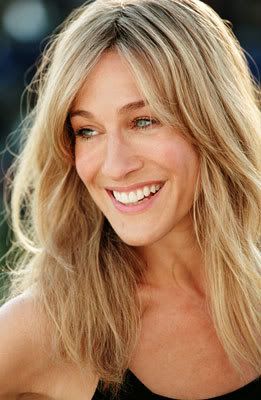 In the intervening years SJP made memorable turns in movies such as when she ran
amok amok amok
in
Hocus Pocus
and was so charming in Steve Martin's winsome
L.A. Story
, in which she played SanDeE*, likely the only character in the history of film with an asterisk in her name. And of course, who could forget her performance under the villainous tutelage of Maggie Smith in
The First Wives Club
, playing a second wife?
She's had a lot on her plate since I first published these birthday wishes three years ago; in addition to wife-and-motherhood - celebrating a thirteenth anniversary with
Matthew Broderick
in May and little James' eighth birthday in October as well as the arrival of twin daughters Marion and Tabitha (delivered by surrogate) in June 2009 - she's already finished a second much-anticipated
Sex and the City
movie following the monster success of the first one in 2008.
On a more cruel note, 2007 also saw her winning the un-coveted title of Maxim magazine's
Unsexiest Woman on the Planet
; Mrs. Broderick spoke out against the award, an unusual move for a celebrity put into such a position. The
Pop Culture Institute
would like to take this opportunity to congratulate Sarah Jessica Parker for somehow managing to maintain her individuality in a profession where many of her contemporaries seem determined to morph into each other; although we're a little peeved that she had her signature mole removed, we're also sure she had her reasons.
*
share on:
facebook