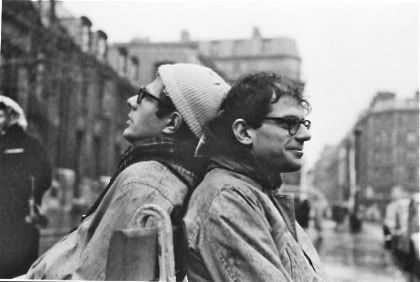 [

On this day in 1957 Allen Ginsberg (pictured above, with his longtime lover

Peter Orlovsky

in a raggedy toque) stared down the forces of censorship and won both the public relations battle and the latest skirmish in the war on freedom of expression over his poem

Howl

with the able assistance of attorney

Jake Ehrlich

. The story of the trial and the issues it raised is rumoured to be receiving the celluloid treatment, with über-hunky

Jon Hamm

as Ehrlich.

]
1199
- England's King
Richard I
(better known as Richard the Lionhearted) was wounded by a crossbow bolt while attempting to suppress a revolt by
Aimar V of Limoges
at the castle of
Chalus-Chabrol
in France; the King's injury resulted in his agonizing death from gangrene eleven days later.
1306
-
Robert the Bruce
was crowned
King of Scotland
by
Isabella MacDuff
.
1655
-
Saturn
's largest moon,
Titan
, was discovered by
Christian Huygens
.
1802
- The
Treaty of Amiens
was signed as a 'Definitive Treaty of Peace' between France and
United Kingdom
; as a 'treaty of peace' it broke down almost instantly, which is what made it so 'definitive'.
1807
- The
Slave Trade Act
became law, abolishing the
slave trade
in the British Empire; it was an important step in the abolition of slavery throughout British territory, which occurred in 1833 with the passage of the
Slavery Abolition Act
.
1811
-
Percy Bysshe Shelley
was expelled from the
University College, Oxford
, for his publication of the pamphlet
The Necessity of Atheism
; Shelley's friend (and future biographer)
Thomas Jefferson Hogg
was also expelled for his involvement in the matter.
1894
-
Coxey's Army
, led by
Jacob Coxey
, departed
Massillon, Ohio
, for
Washington, DC
; protesting the widespread economic recession brought on by the
Panic of 1893
, it is thought that their story was later adapted allegorically by
L. Frank Baum
in his book
The Wonderful Wizard of Oz.


1908
- Brazilian football club
Clube Atletico Mineiro
was founded in
Belo Horizonte
.
1918
- The
Belarusian People's Republic
was established.
1941
- The
Kingdom of Yugoslavia
joined the
Axis powers
when
Prince Paul
- that country's regent - signed the
Tripartite Pact
; his actions inspired a coup, and two days later the 18-year-old King
Peter II
seized power.
1949
- An extensive campaign known as the
March deportation
was conducted in Estonia, Latvia and Lithuania to force
collectivization
by way of terror;
all told, Stalinist
authorities deported more than 92,000 people from
the Baltic states
to remote areas of the Soviet Union.
1957
- US Customs officials seized 520 copies of
Allen Ginsberg
's poem
Howl
as obscene, bringing charges against its publisher
Lawrence Ferlinghetti
and his business, San Francisco's iconic
City Lights Bookstore
, for publishing it.
1958
- Canada's legendary jet fighter, the
Avro Arrow
, made its debut flight.
1969
- During their honeymoon,
John Lennon
and
Yoko Ono
held their first
Bed-In for Peace
in the
Hilton Hotel in Amsterdam
; a publicity stunt designed to exploit media interest in their
recent marriage
, it lasted until the end of March.
1975
- Saudi Arabia's King
Faisal
was
shot and killed
by his nephew
Faisal bin Musa'id
, who was immediately captured, declared mentally ill, found guilty of regicide, and beheaded in Riyadh in June; the King was succeeded by his half-brother
Khalid
.
1979
- The first fully functional
space shuttle
orbiter,
Columbia,
was delivered to the
John F. Kennedy Space Center
to be prepared for its first launch.
1988
- The
Candle Demonstration
in Bratislava was the first mass demonstration of the 1980s against the communist regime in the former Czechoslovakia; it is commemorated today in Slovakia as the Struggle for Human Rights Day.
1990
- A
fire set by
Julio González
at the illegal
Happy Land
social club in the Bronx killed 87 people, many of them Hondurans celebrating Carnival.
2006
- During the
Capitol Hill massacre
Kyle Aaron Huff killed six people before taking his own life at a party in Seattle's
Capitol Hill
neighborhood; it was one of the largest crime scenes that city had ever seen.
*
share on:
facebook