A celebratory 101-gun salute was fired in
Monaco
after
Princess Grace
(formerly film star Grace Kelly) gave birth to a son, Albert, on this day in 1958; the following day was declared a holiday in the tiny principality - a wealthy enclave basking in the Mediterranean sun - by his father
Rainier III
.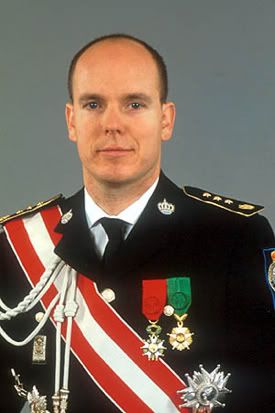 The 'bonny, bonny Prince' - as his Grandmother Kelly declared him - automatically took precedence over his older sister
Princess Caroline
, giving the
House of Grimaldi
(which has ruled Monaco since 1297) another generation of life, thanks to that universal Holy Grail of the aristocracy, a male heir.
Ironically enough, though, she's the one who may have provided for the survival of the dynasty, as thus far none of Albert's children have been born in wedlock; despite a high profile relationship with model
Claudia Schiffer
, His Serene Highness has preferred to splash out the fruits of his fertility illegitimately - whether on real estate agents or air hostesses or porn stars, causing necessary changes to be made to Monaco's constitution to ward off any danger of extinction to the royal line.
Currently, the Prince is scheduled marry South African Olympic swimmer
Charlene Wittstock
in July, one of three royal weddings the Pop Culture Institute will be following in 2011*.
*The others, of course, being Wills and Kate in April and Zara Phillips and Mike Tindall in July.
*
share on:
facebook