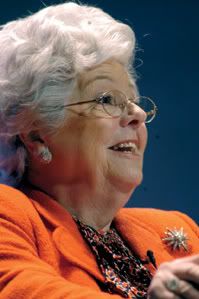 On this day in 1992
Betty Boothroyd
, a Labour MP for
West Bromwich
(northwest of Birmingham) and formerly with the
Tiller Girls
dancing troupe, became the first woman elected
Speaker of the British House of Commons
at the Mother of All Parliaments in Westminster, succeeding
Bernard Weatherill
.
She was not, however, the first woman to serve in that role; from 1970 to 1973
Betty Harvie Anderson
served as deputy speaker under
Selwyn Lloyd
and occasionally presided over the House in his absence.
Boothroyd served as Speaker of the House until 2000, at which time she was succeeded by
Michael Martin
.
*
share on:
facebook