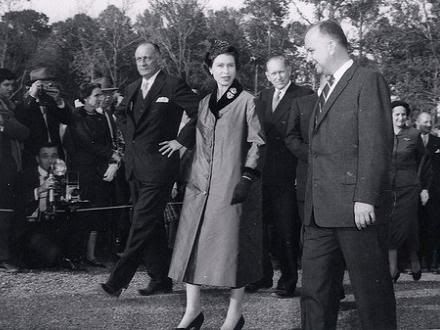 It was nearly 50 years ago Elizabeth II first visited
Jamestown
on the occasion of its 350th anniversary (
shown above
). Once again the
Commonwealth of Virginia
is all agog over a royal visit, this time for the 400th anniversary.
The Queen's complete schedule is available
here
. Her Majesty's itinerary includes the visit to Olde Jamestowne, trips to the Kentucky Derby, Goddard Space Centre, William and Mary College, and a garden party and state dinner at the White House, among others.
I really enjoyed the stories about Jamestown in the May 2007 issue of
National Geographic
, which can be enjoyed online
here
. I learned about, among other things,
Columbian exchange
, a concept which was completely unknown to me before I folded back that iconic yellow-bordered cover.
The Royal visit commences May 3rd and finishes on the 8th; count on the Pop Culture Institute for full coverage of the Queen's fourth official visit to the United States.
share on:
facebook