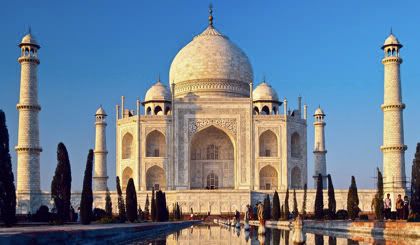 [

The Taj Mahal is a prime example of

Mughal architecture

, and its over-the-top opulence is nothing compared to the ornate and enduring love that seems to have inspired it. History has conveniently erased almost everything that was once known about the woman whose tomb this is, but here is written in stone and tile a biography of one who clearly earned the sobriquet 'beloved ornament of the palace'.

]
1462
- During the so-called
Night Attack
Vlad III the Impaler
attempted to assassinate Ottoman Emperor
Mehmed II
, forcing him to retreat from
Wallachia
.
1497
- At the
Battle of Deptford Bridge
near London forces led by England's King
Henry VII
soundly defeated the rag-tag militia of blacksmith
Michael An Gof
, thereby effectively ending the
Cornish Rebellion
.
1565
-
Matsunaga Hisahide
assassinated the 13th
Ashikaga shogun
,
Ashikaga Yoshiteru
.

1631
- When
Mumtaz Mahal
died giving birth to their fourteenth child, Gauhara Begum, her dying wish prompted her grieving husband
Shah Jahan
to spend the next 20 years building the
Taj Mahal
as a tomb worthy both of her memory and their love.
1775
- During the
Siege of Boston
at the outset of the
American Revolution
, the
Battle of Bunker Hill
- which actually took place on
Breed's Hill
- pitted American general
Israel Putnam
against Britain's
William Howe
; technically an American loss, Howe was able to claim a Pyhrric victory at best, since he was the only one of his field staff who wasn't shot.
1885
- The
Statue of Liberty
arrived in
New York Harbor
packed in 214 boxes on board the French frigate
Isère
, although she wouldn't be formally dedicated by President
Grover Cleveland
until
October 1886
, as fund-raising efforts to provide her with a suitable pedestal foundered.
1898
- The
United States Navy Hospital Corps
was established.
1930
-
President
Herbert Hoover
signed the rabidly protectionist
Smoot-Hawley Tariff Act
into law, thereby turning a temporary downturn caused by the
Crash of 1929
into the decade-long
Great Depression
.
Smoove move Hoove...
1932
- The so-called
Bonus Army
comprised of around a thousand First World War veterans amassed at the
United States Capitol
as the US Senate was deliberating a bill that would give them certain benefits such as pensions.
1933
- Four FBI agents and captured fugitive Frank Nash were gunned down by gangsters
Charles 'Pretty Boy' Floyd
,
Vernon Miller
, and Adam Richetti - who were attempting to free Nash from federal custody - during the
Union Station Massacre
in Kansas City, Missouri; the whole story is thrillingly told in Bryan Burroughs' riveting book
Public Enemies
- soon to be a major motion picture starring Johnny Depp!
1939
- At the last public guillotining in French history, convicted murderer
Eugen Weidmann
lost his head outside the
Saint-Pierre
prison near
Versailles
; the guillotine would still be used in private executions until
September 1977
, when it would be
Hamida Djandoubi
's turn to become the answer to an awesome
Trivial Pursuit
question.
1940
- The
Baltic States
- Estonia, Lithuania, and Latvia - fell under Soviet occupation, where they would remain until their independence was recognized by Russia in
September 1991
.
1944
-
Iceland
gained its
independence
from Denmark, following a plebiscite; the new republic's first president was
Sveinn Björnsson
. Previously the island dependency had been granted Home Rule in 1874, which was expanded in 1904; latterly, an Act of Union (passed in December 1918) gave Iceland full independence under the Danish crown. It was the Second World War, though - more specifically Denmark's occupation by Germany (not to mention Iceland's occupation by Great Britain) - that gave the country's independence movement its final burst of speed.
1953
- In order to quell the
Workers Uprising
in
East Germany
, the Soviet Union ordered units of the
GSFG
and
Volkspolizei
into
East Berlin
.
1958
- The
Ironworkers Memorial Second Narrows Crossing
being built to connect
Vancouver
with
North Vancouver
collapsed into the
Burrard Inlet
, killing many of the ironworkers on it and injuring others; the collapse was later deemed to be due to human error, the human in question being an engineer who was one of those who died.
1961
- Canada's
New Democratic Party
was founded following a merger by the
Co-operative Commonwealth Federation
and the
Canadian Labour Congress
.
1963
- The
US Supreme Court
ruled 8 to 1 against in the case of
Abington School District v. Schempp
, disallowing the reciting of Bible verses and the
Lord's Prayer
in public schools; the dissenting opinion was offered by that lovable kook
Potter Stewart
.
1987
- With the death of the last individual - a male named Orange Band, who lived to the grand old age of eight at
Walt Disney World Resort
's
Discovery Island
nature preserve - Florida's
Dusky Seaside Sparrow
became extinct. Native to the natural salt marshes of
Merritt Island
and along the
St. John's River
, it's foe was the usual suspect of
DDT
- sprayed no doubt due to the rampant spread of ugly subdivisions with their contempt for the natural world. The species was officially declared extinct in December 1990.
1994
- Following a
well-televised low-speed highway chase
and a failed attempt at suicide so unconvincing it wouldn't have fooled Helen Keller,
O.J. Simpson
was arrested for the murders of his wife,
Nicole Brown Simpson
, and her friend
Ronald Goldman
.
*
share on:
facebook