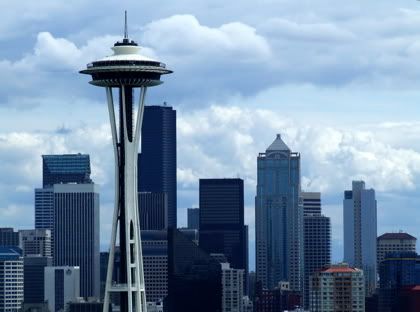 At last I have my very own photo of the Seattle skyline! Hopefully this soon-to-be iconic image will be adorning a great many of my posts, because I do love Seattle. Oh, I love it alot. I love it so much I may, in fact, start singing.
The day began late, due to a particularly virulent summer cold I seem to have picked up from someone (cough, cough, Doug, cough) but that was okay. After all, this
is
supposed to be a vacation. It simply won't do to be dashing about like I do at home. Yeah, right... The only time I ever dash in Vancouver it's to avoid being squashed by some coked-up Yuppie in a Range Rover.
Nevertheless, despite the late start it was a full day indeed. In fact, the only reason such a late start was even possible was because of the knowledge and efficiency of my guide, Mr. Gagne, whose name my readers will recognise from his numerous useful and insightful comments.
After a tasty and nutritious brunch, we set out. The day's sight-seeing started at the Admiral Way lookout, for a western vista of the city.

This will now serve as my Seattle banner, as it covers the entire area from the Space Needle on the left to the Smith Tower on the right. It has everything great about Seattle in it except
Mount Rainier
and Kathi Goertzen
1
.
We continued on to the charming neighbourhood of Alki, which resembles a fishing village built by hippies which is rapidly gentrifying. I decided that Alki is my favourite neighbourhood in the city. It's also famously the Birthplace of Seattle, as proclaimed on the monument at Alki Beach.
I was probably most fascinated by this monument because embedded in it is a piece of Plymouth Rock. I got to touch it and everything. For a history buff such as myself, this was almost erotic. Either that or I really need to get laid.
After Alki, my guide and I made our way back through downtown and then to Queen Anne Hill, where the top photo was taken. This neighbourhood has long fascinated me, and not just for its name. The hillside is chock-a-block with gorgeous houses of every style - French, Italianate, West Coast. I decided that Queen Anne is my favourite neighbourhood in the city.
By this time it'd been nearly sixteen hours since I'd spent any money, so I was beginning to get a little antsy. Mr. Gagne pointed the trusty Iseabail
2
down the hill to the north of Queen Anne in the direction of Fremont.
By the time we arrived in Fremont my head was ready to explode. As charming as Alki and as posh as Queen Anne are, I decided that Fremont is my favourite neighbourhood in the city, since it is all this and more.
Here we stopped for a little light lunch, at a lovely Thai place called Tawan Thai. Mr. Gagne had a chicken satay with Pad Thai and I had my usual green curry chicken with a coconut smoothie, which was so good, I've already made plans to be buried in the stuff.
After lunch I bought
North River
, the new novel by Pete Hamill, and finally found a copy of
Midnight's Children
by Sir Salman Rushdie. My consumerism having been temporarily sated the rest of the day was like a walk in the park.
Which, in fact, it was. As amazing as the day had been thus far, it turns out the day's
piece de resistance
was yet to come, a stroll through the Woodland Park Zoo...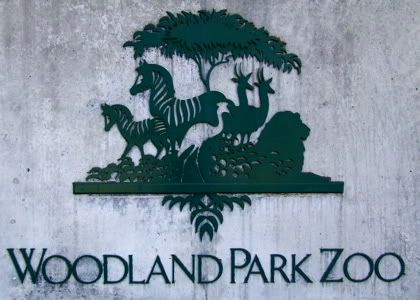 * * *
1. Local TV personality, widely reputed to be an angel in human form.
2. Pronounced "ISH-bell".
share on:
facebook