Not only did I buy both
Stripperella
and
Stacked
on DVD, I also watched them until I'd memorized them; likewise the now-legendary
Comedy Central Roast of Pamela Anderson
, which is easily one of the funniest things I've ever seen, and whose insistent barrage of profanity-laden insults I have since frequently co-opted for my personal use - but only against those who really had it coming to them...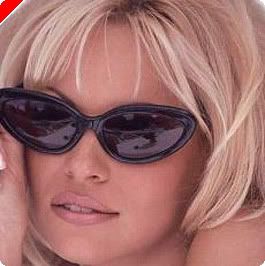 I don't know why I'm so obsessed with her; maybe it's because I wasn't allowed to have Barbies when I was a kid. But what I do know is, some people are born to be naked and she's one of them; Bravo Pam, I say, for not being afraid to make a big tit of yourself, especially given what made you so big in the first place.
I'm convinced that if she'd stayed in
Ladysmith
she'd have lived the same life she does now, just on a smaller scale; being traded like hockey cards between tattooed jerks with big dicks, making amateur porn, and generally bringing light into any dark corners she finds. Instead, fame found her and she gets to do those things for the edification and delight of all of us. It's impossible to hate anyone who's kind to animals, but even Saint
Francis of Assisi
would have bitch-slapped such high-profile douchebags as
Tommy Lee
,
Kid Rock
, and
Rick Salomon
; this woman not only had the compassion to take them in she even had sex with them. She makes me proud to be Canadian.
O Pamela we stand on guard for thee...

*
share on:
facebook