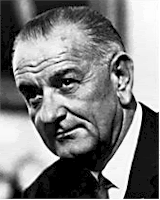 On this day in 1964 US President
Lyndon B. Johnson
signed the
Civil Rights Act
as part of a series of reforms aimed at creating what he called a
Great Society
, by eliminating both poverty and racism...
The bill was followed by the
Voting Rights Act
and the appointment of the first black Supreme Court justice,
Thurgood Marshall
, giving the
Civil Rights Movement
much-needed momentum. The Pop Culture Institute feels certain that racial equality is on its way to America, any day now...
*
share on:
facebook