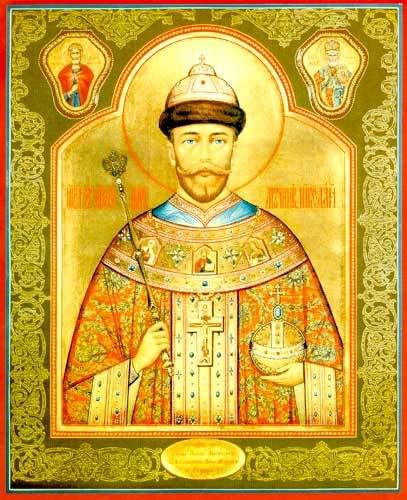 [

Tsar Nicholas II and his family are considered

saints

by




the

Russian Orthodox Church Abroad

and

passion bearers




by the

Russian Orthodox Church

within their homeland.

]


180 CE
- The
Scillitan Martyrs
- 12 residents of
Scillium
in North Africa - were executed for being Christians following a trial, at
Carthage
, presided over by pro-consul Vigellius Saturninus, who's been singled out by the historian
Tertullian
as the first persecutor of Christians in Africa. Not only is this is the earliest record of Christianity in that part of the world but the documents related to the case are among the earliest ever written in Christian Latin.

1203
- The
Fourth Crusade
- commanded by the elderly Doge of Venice,
Enrico Dandolo
- captured
Constantinople
following a siege; after the city fell the
Byzantine Emperor
Alexius III Angelus
fled from his capital into exile, whereupon the city served as capital of the
Latin Empire
.
1402
– Zhu Di - better known by his
era name
as the
Yongle Emperor
- assumed the throne of China's
Ming Dynasty
.
1453
- During the
Hundred Years' War
the French, led by
Jean Bureau
, defeated the English under the
Earl of Shrewsbury
at the
Battle of Castillon
; although Shrewsbury was killed in battle, he was later immortalized in
William Shakespeare
's
Henry VI, Part I.
1717
- England's King
George I
sailed down the River Thames on a barge carrying 50 musicians - an altogether appropriate way to give
George Frideric Handel
's
Water Music
its world premiere.
1762
-
Catherine II
became tsar of Russia upon the murder of her husband
Peter III
, who'd been forced to abdicate six days earlier.
1771
- During the so-called
Bloody Falls Massacre
,
Chipewyan
chief
Matonabbee
- traveling as the guide to
Samuel Hearne
on his Arctic overland journey - massacred a group of unsuspecting
Inuit
; the site of the massacre is now located in
Kugluk/Bloody Falls Territorial Park
near
Kugluktuk
in Canada's
Nunavut
, and was designated a
National Historic Site
by the Government of Canada in 1978.
1791
- Members of the
French National Guard
under the command of
General Lafayette
opened fire on a crowd of radical
Jacobins
at the
Champ de Mars
in Paris during the
French Revolution
, killing as many as 50 people.
1794
- Sixteen
Carmelite
nuns - the so-called
Martyrs of Compiegne
- were ordered executed by
Maximilien de Robespierre
at Paris'
Barrière de Vincennes
(which is nowadays the
Place de la Nation
) 10 days prior to the end of the French Revolution's
Reign of Terror
; the women were thereafter buried in
Picpus Cemetery
, and their deaths later formed the basis for
Francis Poulenc
's 1957 opera
Dialogues of the Carmelites
.
1821
- Future US President
Andrew Jackson
took possession of Florida at
Pensacola
under the terms of the
Adams-Onís Treaty
, serving as the newly created territory's first American military governor; in exchange for renouncing any further claim on Texas, the US paid the Kingdom of Spain $5,000,000.
1841
- The first issue of
Punch
was published, having been founded by
Henry Mayhew
and engraver
Ebenezer Landells
; the pre-eminent humour and satire magazine in Victorian Britain, it nevertheless strove to give as little offense as possible. Publication ceased in 1992, was revived in 1996 by
Mohamed al-Fayed
, and the magazine was finally put to bed for good in 2002.
1856
- The 'Camp Hill Disaster', also known as the 'Picnic Train Tragedy' or simply the
Great Train Wreck of 1856
, occurred when an excursion train known as the Picnic Special and a regularly scheduled train called Amaringo (both belonging to the
North Pennsylvania Railroad
) collided between Camp Hill and
Fort Washington, Pennsylvania
. Over 60 people were killed and more than 100 were injured, even though as many as 1,500 people - most of them children - were on the Picnic Special; nevertheless, at the time it was America's worst rail disaster to date.
1918
- Russia's Tsar
Nicholas II
and his family were murdered at
Ipatiev House
in
Ekaterinburg
, where they'd been held captive since May, by the Bolshevik Party's state police force Cheka.
1936
- Following the electoral victory of the leftist
Popular Front
, nationalists led by
Francisco Franco
(among others) attempted to seize the government of Spain. What was intended to be a swift and bloodless coup quickly became the
Spanish Civil War
, which lasted 33 months, followed by thirty-five years of fascist tyranny on the part of Franco, who finally died in
November 1975
.
1938
-
Douglas Corrigan
took off from New York's
Floyd Bennett Field
bound for California, when by his own admission he became disoriented - in fact, just about as disoriented as anyone ever has - and flew the 'wrong way', landing him the following day at
Casement Aerodrome, Baldonnel
in Ireland. Although he forever after bore the name 'Wrong Way' Corrigan, he was in fact a skilled aviator, as well as one of the builders of
Charles Lindbergh
's
Spirit of St. Louis
, and doubts remained until his December 1995 death as to whether or not his unauthorized transatlantic flight was really an accident or merely a protest against the bureaucratic red tape he'd have encountered if he'd wanted to make the flight lawfully.
1979
- Nicaraguan dictator General
Anastasio Somoza Debayle
resigned and fled to Miami.
1996
-
TWA Flight 800
exploded off the northern tip of Long Island, New York, killing all 230 people on board early on in its flight to Paris, including
Andy Warhol
acolyte and interior designer
Jed Johnson
, Ana Maria Shorter (wife of jazz musician
Wayne Shorter
), and fashion photographer Rico Puhlman; the circumstances surrounding the destruction of the aircraft are highly suspicious, and have never been adequately explained.
1997
- After 117 years in business, the final
F. W. Woolworth
stores closed.
1998
- Tsar
Nicholas II
and his family were properly buried in St. Catherine Chapel in St. Petersburg, 80 years to the day after their murder. Their remains had been dumped and desecrated in a coalmine following their massacre, then moved to a quarry outside Ekaterinburg, where they'd been covered in lime in an attempt to completely eradicate any trace of them.
*
share on:
facebook