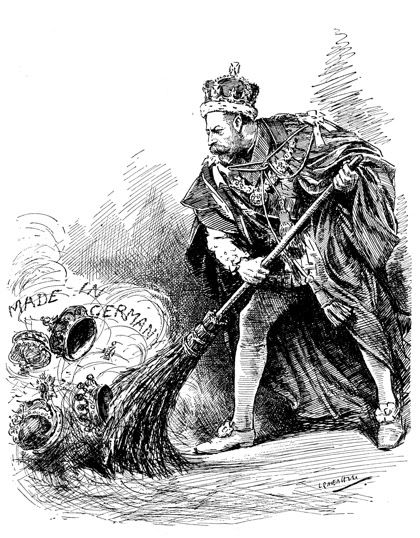 On this day in 1917, England's King
George V
declared the
House of Windsor
in response to the anti-German sentiment then afoot in England, owing to all that unpleasantness we now know as the First World War; formerly the royal family had gone by the name Saxe-Coburg-Gotha, and was itself a rather illustrious branch of the
House of Wettin
.
Luckily, I was able to find this
Punch
cartoon online to demonstrate what the King was trying to do; July 17th - you may remember, going all the way back to this day's
POPnews
- is also the anniversary of the founding of that venerable publication. In its typically harrumphing style, the cartoon is entitled
A Good Riddance
.
Probably the most famous quip associated with the announcement belongs to that noted wit, German Kaiser
William II
, who said when told of the change, he was looking forward to going to the theatre to see Shakespeare's play
The Merry Wives of Saxe-Coburg-Gotha*
.
*So funny... My sides... Stop it Kaiser Bill, you're killing me...

*
share on:
facebook