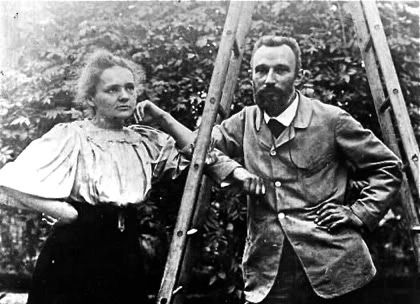 [Pierre and Marie Curie (I'll leave it to you to work out which is which) probably wouldn't have appeared quite so blithe as they do in this photo if only they'd known ahead of time that the work they were doing with radioactive elements would eventually kill them. Although Pierre died first - in April 1906, as a result of a fractured skull in a traffic accident - it's likely that his strength had been sapped by radiation poisoning; Marie's own death, in July 1934, was officially attributed to aplastic anemia, although it was almost certainly related to the blasé manner in which she handled substances like polonium which, thanks to its famous victims like Alexander Litvinenko, we now know will fuck you up big time.]

390 BCE
- By tradition (and the chronology of
Marcus Terentius Varro
, which is today presumed to be faulty*) a Roman Republican army commanded by Quintus Sulpicius was defeated by the raiding
Gauls
of
Brennus
at the
Battle of the Allia
, which took place 18 km (11 miles) north of Rome at the river
Allia
, itself a tributary of the
Tiber
. It would be the first Gaulish invasion of Italy, and cleared the way for the
Senones
to sack Rome in 410 BCE.
*In all likelihood the battle took place on this day, but in 387 BCE instead, or possibly 364 BCE.

1334
- The Bishop of Firenze blessed the first foundation stone for the new
campanile
of the
Basilica di Santa Maria del Fiore
, which was designed by its new Master of the Works,
Giotto di Bondone
; although he never lived to see it completed (which would involve not one but two successors,
Andrea Pisano
and
Francesco Talenti
) his masterpiece now bears the name
Giotto's Bell Tower
in his honour.
1536
- Legend has it the authority of the Pope was declared void in England.
1656
- Forces of the
Polish-Lithuanian Commonwealth
led by King
John II Casimir
clashed with those of Sweden's King
Charles X
and his ally
Frederick William
, Elector of
Brandenburg
, at the start of what is to now known as the
Battle of Warsaw
, which ended in a decisive Swedish victory.
1862
- A team of climbers led by T. S. Kennedy and including W. Wigram, J. Croz and J. Konig, made the first known ascent of
Dent Blanche
, one of the highest summits in the Alps.
1863
- During the American Civil War at the
Battle of Fort Wagner, Morris Island
, the first formal African American military unit - the
54th Massachusetts Volunteer Infantry
- unsuccessfully assaulted Confederate-held
Battery Wagner
; their valiant fighting nonetheless proved the worth of black soldiers during the war (not to mention imparting the all-important psychological element to warfare inherent in sending them against a pro-slavery enemy).
1870
- The
First Vatican Council
decreed the controversial dogma of
papal infallibility
.
1898
-
Marie
and
Pierre Curie
announced their discovery of
polonium
.
1925
- A ham-fisted landscape painter from Munich published his memoirs*, calling them
Mein Kampf
.
Yeah
...
Your struggle. Sure.
Anyway, upon its release the book was widely read, mainly by people who, after its author was dead, rather disingenuously insisted they never would have supported him had they known what he was all about... Even though it's pretty much all in the book. A book that millions of them bought! AND READ!
*Actual Meaning: Diatribe. As in 'Di a tribe. Die ya tribe. Die you tribe'. See what I mean?
1940
-
Franklin Delano Roosevelt
received an unprecedented third nomination to run for the Presidency at the
Democratic National Convention
, held that year in Chicago.
1944
- Japanese Prime Minister
Hideki Tojo
resigned due to numerous setbacks in the war effort.
1953
-
Elvis Presley
made his first recordings at
Sam Phillips
'
Sun Studios
in Memphis.
1965
- The Soviet Union launched its
Zond 3
satellite.
1966
-
Gemini 10
was launched, with
John W. Young
and
Michael Collins
aboard.
1984
-
James Oliver Huberty
opened fire
at a McDonald's in San Ysidro, California, killing 21 people and injuring 19 others before being shot dead by police.
1989
- Actress
Rebecca Schaeffer
- costar of the sitcom
My Sister Sam
- was murdered on her doorstep by
Robert John Bardo
, who'd been stalking her for three years. Bardo shot Schaeffer once in the chest at point-blank range; she was pronounced dead 30 minutes after her arrival at
Cedars-Sinai Medical Center
. The previous focus of Bardo's obsession had been the pre-teen peace activist
Samantha Smith
, who died when
Bar Harbor Airlines Flight 1808
crashed in August 1985; he'd also been stalking teen singers
Debbie Gibson
and
Tiffany
. Schaeffer's murder brought about the first-ever anti-stalking law in the United States, alas a day late and a dollar short... In another of those pop culture coincidences, the prosecutor who saw Bardo locked up for life was
Marcia Clark
, who would shortly become famous for her work on the
O.J. Simpson Trial
. Bardo made a return to the headlines in
July 2007
when he was stabbed while incarcerated at California's
Mule Creek State Prison
.
1992
- The ten victims of the
La Cantuta massacre
were 'disappeared'
from their university in Lima towards the end of the increasingly corrupt presidency of
Alberto Fujimori
; coming just two days after the
Shining Path
's
Tarata bombing
nine students suspected of complicity in that event - Bertila Lozano Torres, Dora Oyague Fierro, Luis Enrique Ortiz Perea, Armando Richard Amaro Cóndor, Robert Édgar Teodoro Espinoza, Heráclides Pablo Meza, Felipe Flores Chipana, Marcelino Rosales Cárdenas, and Juan Gabriel Mariños Figueroa - and a professor, Hugo Muñoz Sánchez, were abducted and have never been seen again.
1995
- The
Soufriere Hills volcano
on the Caribbean island of
Montserrat
erupted; over the course of several years, it devastated the island, destroying
Plymouth
(the capital) and forcing most of the population to flee.
1996
- During the week-long
Battle of Mullaitivu
- codenamed Operation Unceasing Waves by the
Tamil Tigers
- the group carried out an attack which killed over 1200
Sri Lankan Army
soldiers and captured the base in the town of
Mullaitivu
, the single biggest loss to the Sri Lankan military ever. A return engagement, also known as the
Battle of Mullaitivu
, was carried out in January 2009.
*
share on:
facebook