Inasmuch as he is the voice of his generation - disgruntled, suspicious, hilarious - Kevin Smith would just have to have a love-hate relationship with pop culture, wouldn't he? His characters have all invariably worshiped its hollow allure, overthought its shallow content, and sifted what gems they could from its detritus in search of something to fill the spiritual void left in them by their soulless Baby Boomer parents...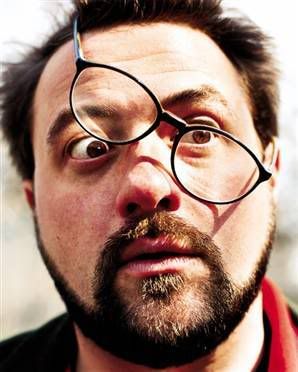 Beginning with
Clerks
in 1994*, Smith has used suburban new Jersey to represent the emotional landscape in which many of those his age were raised;
Mallrats
and
Chasing Amy
continued the story in 1995 and 1997 respectively.
His masterpiece came in 1999 when the
film
Dogma
tested Smith's abilities, yielding a work of extraordinary genius as a result; equally genius was the decision - made by Miramax - to release it on Good Friday, accurately predicting the rage of Christians who'd never seen the movie and never would to call for its censorship, thus ensuring huge ticket sales and critical acclaim. Needless to say, I
love
it when that happens...
2001 brought a return to the fictionalized version of Red Bank, with the stoner movie instant classic
Jay and Silent Bob Strike Back;
he followed it up with
Jersey Girl
and
Clerks II
, and continued expanding the
View Askewniverse
in 2008 with
Zack and Miri Make a Porno
while
Red State
may or may not see the light of day yet in 2010. In the meantime Smith is slated to direct
A Couple of Dicks
- a buddy cop picture starring
Bruce Willis
and
Tracy Morgan
.
The canon of Kevin Smith's work tends to highlight the plight of lost souls, underdogs, and unrepentant losers - all of them searching for something, or someone, or to mean something to someone. Smith's skill as a filmmaker is that he lets them do it, all the while filling out the hollow and deepening the shallow with the kind of dialogue I for one pray for, but never seem to get, in real life.
*Made for $27,575 at the same convenience store where he worked.
*
share on:
facebook