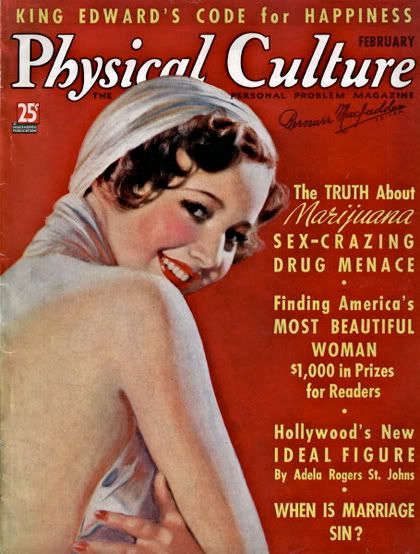 [

This February 1937 cover of

Bernarr Macfadden

's

Physical Culture
magazine describes marijuana as a 'sex-crazing drug menace' -
almost as though that were a bad thing!
]
686 CE
- Pope
John V
died; he was succeeded by Pope
Conon
on October 21st. As it happens, Conon was a compromise candidate... Initially the clergy favoured
archpriest
Petros
, while the military favoured another priest named Theodoros, and it took a couple of months of delicate diplomacy to solve the quandary.
1100
- England's King
William II
- better known as William Rufus - died while on a hunting trip in
New Forest
, when his companion
Walter Tyrrel
accidentally struck him in the chest with a stray arrow intended for a buck; he was succeeded by his younger brother, who reigned as
Henry I
.
1589
- France's King Henri III (
shown, at right
) died, having been stabbed by a Dominican friar named
Jacques Clément
the previous day while lodged with his army at
Saint-Cloud
during preparations for an impending siege of Paris... Clément himself was killed on the spot by the King's bodyguard. The last of the
Valois
kings (his own marriage to
Louise of Lorraine
being childless likely due to his rather open homosexuality) the fourth son of
Henri II
and
Catherine de' Medici
was succeeded by the Huguenot King of Navarre Henri III, who would reign as the first of the
Bourbon
kings under the name
Henri IV
- although he wouldn't be crowned until
February 1594
, having been forced first by the
Catholic League
and then by Spain to win the throne through a
rather arduous conquest
.

1610
-
Henry Hudson
reached what would later be called
Hudson Bay
on board
Discovery
, thinking he'd passed through the
Northwest Passage
into the Pacific Ocean.
1790
- The first
US Census
was conducted.
1916
-
Austro-Hungarian
sabotage was blamed for causing the sinking of the Italian battleship
Leonardo da Vinci
in the harbour at
Taranto
, killing 249 of the thousand men aboard; although the vessel was salvaged after World War I, planned repairs were never finished, and it was sold for scrap in 1923.
1923
- Following the sudden death, at San Francisco's
Palace Hotel
, of
Warren G. Harding
- who took ill a week earlier during a visit to Vancouver - his Vice President
Calvin Coolidge
became the 30th President of the United States.
1934
- Adolf Hitler became Führer of Germany following the death of
Reichspräsident
Paul von Hindenburg
.
1937 -
Marijuana
was made illegal in the United States following passage of the
Marihuana Tax Act
.


1943
-
PT-109
was rammed by the Japanese destroyer
Amagiri
in the Blackett Strait between the
Solomon Islands
of
Kolombangara
and
Arundel
; in charge of the vessel was
Lieutenant, junior grade
(LTJG)
John F. Kennedy
, future US President, who managed to save all but two* of his crew from the ship, which sank. Kennedy then led his crew to safety by swimming to uninhabited
Plum Pudding Island
** (deep in enemy waters which were also shark- and crocodile-infested) before they could be rescued, six days later, from the more resource rich Olasana Island nearby.
*

Seamen Andrew Jackson Kirksey and Harold W. Marney.
**Which was renamed Kennedy Island in his honour.
1945
- The Dutch Royal Family returned to Holland from their exile in Canada, apparently.
1964
- During the
Gulf of Tonkin Incident
North Vietnamese gunboats allegedly fired on US destroyers
USS Maddox
and the
USS Turner Joy
, an event which President
Lyndon B. Johnson
used as a justification for the
Vietnam War
(despite the fact that it may have never happened) under the terms of the
Gulf of Tonkin Resolution
.
1967
- The second
Blackwall Tunnel
opened, connecting the London boroughs of
Greenwich
and
Tower Hamlets
.
1973
- A
flash fire
killed 51 at the
Summerland
amusement centre at
Douglas
on the
Isle of Man
.
1980
- The
Pro Football Hall of Fame Game
ended with 5:24 remaining when it was canceled due to severe lightning, ending the game in a 0-0 tie.
1990
-
Iraq invaded Kuwait
- or 'Province 19' as Saddam Hussein liked to call it - sparking the first
Gulf War
.
*
share on:
facebook