Nancy Kulp
moved to Hollywood in 1951 to work in publicity; instead, she went into the movies. By 1962 she found herself on
The Beverly Hillbillies
- the number one sitcom in the country, and for which she and her work were nominated for an Emmy in 1967. How's
that
for publicity?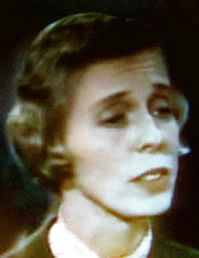 Kulp will always be remembered for her winking portrayal of sex-starved spinster Miss Jane Hathaway; with her lockjawed accent and the prim cut of her suit she made an excellent foil for the gang of rubes at the center of the action. Watching her mooning around after Jethro is surely one of the funniest things that was ever on television.
After the show was taken off the air in 1971, Kulp continued acting for awhile, ran unsuccessfully for office in 1984, tried her hand as an acting coach, and eventually retired. Born on this day in 1921, she died of cancer in Palm Springs in February 1991.
Kulp was married to Charles Dacus for a decade from April 1st, 1951; little else is known about him.
Boze Hadleigh
claims to have interviewed Kulp in 1987, an interview in which she owns up to her 'bisexuality'; Hadleigh, however, has a reputation as a fabulist, so his account must be taken as such.
*
share on:
facebook