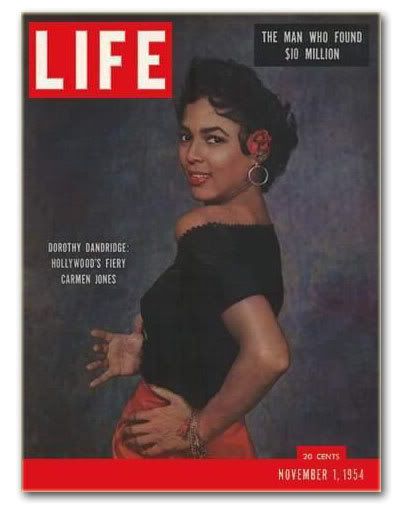 In 1957 Dorothy Dandridge struck back at the publisher of Hollywood tabloids - such as
Confidential
,
Whisper
, and
Hush-Hush
- who claimed she'd had an affair with a white bandleader in 1950 while performing her nightclub act in Lake Tahoe. Reminding the jury that had she so much as left her hotel room in those days she could have been arrested for defying laws which enforced racial segregation, they found in her favour.
She not only won her case, but her case was ultimately successful in curtailing the invasive tabloid coverage of Hollywood that had been on the rise throughout the 1950s; by the time the tabloid press came roaring back to life it was the mid-70s, and she was long gone. Too bad, because her death had everything the tabloids today seem to crave, and in their muckraking who knows what truths they might have turned up - even if accidentally - about the sad final years of her life.
By the age of 42 a lifetime of heartache had taken its toll on Dorothy Dandridge: childhood sexual abuse, racism, drugs and alcohol, bad relationships and even worse finances, even fame itself had brought the still beautiful singer and actress to a pretty pass. When she was found by her agent Earl Mills in her West Hollywood apartment on this day in 1965, dead from an overdose of Imipramine, the notoriously cursory LA County coroner
Thomas Noguchi
made only his usual scant investigation before declaring her fate an accidental overdose.
Whether suicide or accident or murder killed Dorothy Dandridge we may never know...
*
share on:
facebook