In a way it seems apt that he excelled at short fiction, for the life of F. Scott Fitzgerald was both short and a brilliant fiction itself...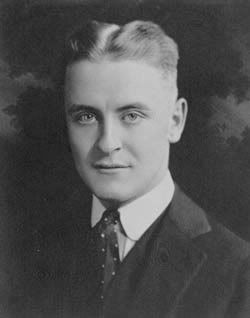 The ease with which he moved among the idle rich belied the fact that he needed to be anything but idle in order to be rich enough to pay for merely the appearance of wealth. Throughout the 1920s, while still productive, he produced an extraordinary array of short stories, and three novels: in 1920
This Side of Paradise
, from 1922
The Beautiful and the Damned
, and in 1925 his masterpiece
The Great Gatsby
.
By the 1930s, of course, the decade-long party of the
Jazz Age
was over, the cafes to which
Cafe Society
had flocked all shuttered; his wife
Zelda
's descent into madness and his own alcoholism seemed to mirror the Great Depression into which the nation had fallen, and henceforth there was never enough money or time to revive the early promise he'd shown.
Born on this day in 1896, Fitzgerald died in
December 1940
.
*
share on:
facebook