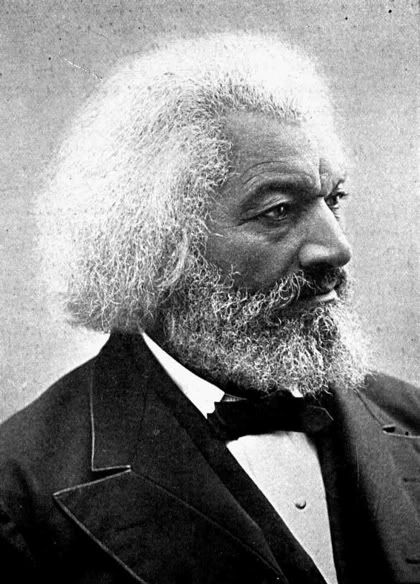 [
Frederick Douglass escaped slavery via train and ferry, taking
24 hours to travel from Maryland to New York City dressed
as a sailor and using another man's identification papers.
]
36 BCE
- At the sea-going
Battle of Naulochus
- fought off the coast of Sicily, oddly enough near
Naulochus
-
Octavian
's admiral
Marcus Vipsanius Agrippa
defeated
Sextus Pompeius
, son of
Pompey
, thus ending Pompeian resistance to the
Second Triumvirate
and (not inconsequentially) freeing up a vital portion of
Rome's grain supply
.
301 CE
- The Republic of
San Marino
was founded by its namesake,
St. Marinus
.
590 CE
-
Gregory I
was elected Pope to replace the recently deceased
Pelagius II
.
1189
-England's King
Richard I
(since better known as 'Richard the Lionhearted') was crowned at
Westminster Abbey
; not only was his coronation marred by anti-Semitic violence - notably killed in sectarian attacks that day was the scholar
Jacob of Orléans
- but owing to his involvement in the Crusades, the King would spend a scant ten months of his ten-year reign in his kingdom, allowing his brother
John
pretty much free reign to hone his already considerable skills as an absolute
douchebag
monarch.
1777
- During a skirmish between British/Hessian and American forces at
Cooch's Bridge
in New Castle County, Delaware - known as the
Battle of Cooch's Bridge
* - the
Stars and Stripes
was flown in battle for the first time; while technically an American loss, the battle was an unqualified victory for the nascent nation's propagandists, who've been waving the flag over battlegrounds ever since.
*Incidentally, the only battle of the American Revolution to be fought in Delaware.
1783
- The
American Revolution
was officially concluded with the signing of the
Treaty of Paris
by Americans
John Adams
,
Benjamin Franklin
, and
John Jay
and British emissary
David Hartley
at the Hotel d'York in Paris.
1812
- 24 settlers were killed by
Shawnee
raiders near Underwood, Indiana, in what came to be known as the
Pigeon Roost Massacre
; the location of the killings, which occurred shortly after the opening of the
War of 1812
, is now a State Historic Site.
1838
-
Frederick Douglass
stole his
freedom
.
1870
- Prussia's Second Army under
Prince Friedrich Karl
undertook the
Siege of Metz
, which would result in a decisive Prussian victory in the
Franco-Prussian War
against the
defenses of Metz
when France's Marshal
François Bazaine
finally surrendered on
October 23rd
.
1878
- Over 640 people died when the crowded pleasure boat
Princess Alice
collided with the coal ship
Bywell Castle
within sight of London's North Woolwich Pier; owing to severe pollution in the River Thames many of those who didn't die on that day perished in the subsequent months.
1914
-
William, Prince of Albania
left the country after just six months due to opposition to his rule.
1925
- The
American z
eppelin
USS
Shenandoah
crashed near
Caldwell, Ohio
, killing 14 - including its commander,
Zachary Lansdowne
.
1935
-
Sir Malcolm Campbell
became the first person to ever drive a car faster than 300 mph.
1951
-
Search for Tomorrow
made its TV debut on CBS; it would be broadcast for 35 years, not going off the air until 1986.
1967
- On what came to be known as
Dagen H
in Sweden, traffic changed from driving on the left to driving on the right overnight; to be more precise, the change-over occurred at 4:50 AM.
1971
-
Qatar
gained its independence from the United Kingdom.
1976
- The
Viking 2
spacecraft landed at
Utopia Planitia
on Mars.
1995
-
eBay
was founded.
2004
- Day 3 of the
Beslan school hostage crisis
ended with the deaths of more than 300 people, over half of whom were children.
*
share on:
facebook