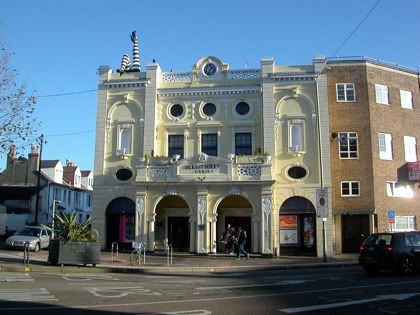 [
Currently called the Duke of York's Picture House, Britain's
oldest extant cinema now shows art house and repertory films.
]
66 CE
- Roman Emperor
Nero
created a legion which, following his death in 69 CE during the
Year of the Four Emperors
, was officially named
I Italica
, or 'Italian First'. They remained in existence for much of the next five centuries, and were stationed at the Danube when Goths overran what remained of the
Western Roman Empire
.
1236
-
Lithuanian
Samogitians
and
Semigallians
under
Vykintas
defeated the
Livonian Brothers of the Sword
in
Battle of Šiauliai
(or The Battle of the Sun); the Livonian commander,
Volkwin
, died in battle.
1499
- Although the foundation of
Switzerland
is traditionally measured from
August 1st, 1291
, it was the
Treaty of Basel
(signed on this day) that awarded the Swiss their independence from the
Holy Roman Empire
following the
Battle of Dornach
.
1598
- Writer
Ben Jonson
was indicted for manslaughter when he killed an actor, Gabriel Spenser, during a duel in what is now
Hoxton
. Jonson was incarcerated in
Newgate Prison
, where he converted to Roman Catholicism; he later avoided a death sentence because he was
literate
.
1692
- Based solely on the testimony of a group of young girls
Martha Corey
was hanged during the
Salem witch trials
, three days after her husband
Giles Corey
was ordered to be
crushed to death
by the same judicial body... Despite their early tragic deaths at the hands of a bunch of paranoid religious zealots, the Coreys attained a kind of immortality when they were made main characters in
Arthur Miller
's
1953 play
The Crucible
.
1761
- England's King
George III
was crowned alongside his consort
Queen Charlotte
at
Westminster Abbey
.
1774
- Pope
Clement XIV
died; he was succeeded by
Pius VI
in February 1775.
1776
-
Nathan Hale
was hanged by the British for
spying
; whether or not he ever uttered his famous last words - 'I only regret that I have but one life to lose for my country' - they became a rallying cry for Patriot forces.
1851
- The city of
Des Moines, Iowa
, was incorporated as Fort Des Moines.
1869
-
Richard Wagner
's opera
Das Rheingold
premiered at the National Theatre in München.
1910
- The
Duke of York's Cinema
opened in Brighton; that it is still in use today makes it the oldest continually operating cinema in Britain.
1919
- The
steel strike of 1919
, led by the
Amalgamated Association of Iron and Steel Workers
, began in Pennsylvania and spread across the United States before collapsing in January 1920.
1927
-
Jack Dempsey
lost the
Long Count
boxing match to
Gene Tunney
at Chicago's
Soldier Field
.
1955
- British television network
ITV
went on the air
, effectively turning the BBC's media monopoly into a media oligarchy.
1960
- The
Sudanese Republic
was renamed
Mali
after the withdrawal of
Senegal
from the
Mali Federation
; the newly renamed nation then gained its independence from France.
1970
-
Tunku Abdul Rahman
resigned as
Prime Minister
of Malaysia in favour of
Tun Abdul Razak
.
1975
-
Sara Jane Moore
was thwarted in her attempt to assassinate President
Gerald Ford
by
Oliver Sipple
; admiration for Sipple in GOP ranks was later quashed when it was revealed - by no less than
Harvey Milk
- that the Vietnam vet was gay.


1980
- Iraq
invaded
Iran, precipitating the eight-year
Iran-Iraq War
.
1985
- The
Plaza Accord
was signed in
New York City
.
*
share on:
facebook