Frankie Lymon was famous young, as lead singer of
The Teenagers
; what we know now (that either wasn't known then or else was and was nonetheless disregarded) is that youth and fame are usually a lethal cocktail, as they certainly were in this case...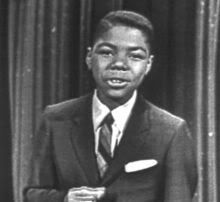 When their first single
Why Do Fools Fall In Love?
became a smash hit in 1956 the Harlemite was just 14, a precocious entertainer and songwriter who had a natural rapport with audiences and a kind of poise when dealing with showbiz veterans that is almost eerie to behold.
In that year alone the group charted 7 singles between the Pop and R&B charts (although none of them were as successful as that first one), and the group morphed from The Teenagers to Frankie Lymon & The Teenagers. Early in 1957, Lymon went solo, which was career suicide; typically, it was a greedy record executive's idea, and in his zeal for ever more golden eggs,
George Goldner
ended up killing the goose.
Addicted to heroin by the age of 15, Frankie Lymon was found dead of an overdose of the drug in May 1968, aged only 25. Incredibly, legal problems dogged his estate (mainly involving songwriting credits, royalties, and which of his three wives was entitled to what); they weren't settled until 1992.
*
share on:
facebook