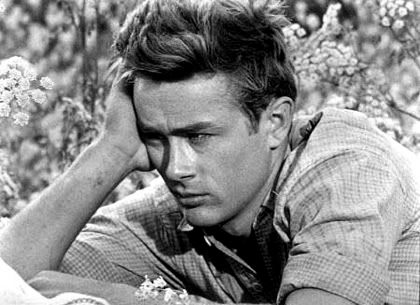 Even though he had just two feature films -
Rebel Without a Cause
and
East of Eden
- to his credit (and had just completed work on his third,
Giant
, eight days earlier) James Dean's career was off to a roaring start on this day in 1955 when he got off to a roaring start of his own;
en route
to a car race in Salinas at the wheel of his newly bought
Porsche 550 Spyder
- one of only 90 in existence, customized by
Batmobile
designer
George Barris
and named 'Little Bastard' by Dean's friend and vocal coach
Bill Hickman
- the 24-year-old actor met his untimely end.
Dean was traveling in a sort of convoy with his friends
Lance Reventlow
(who drove ahead in a station wagon with Bill Hickman and photographer Stanford Roth, who'd planned to photograph Dean at the races) and
Rolf Wütherich
; at about four in the afternoon Dean and Wütherich were heading west on
U.S. Route 466
(later
State Route 46
) near
Cholame
when they were hit head on by
Donald Turnupseed
. Turnupseed suffered a few cuts and facial lacerations, Wütherich was thrown free of the car and suffered a broken jaw among his injuries, but Dean was badly injured. He was taken by ambulance to Paso Robles War Memorial Hospital where he died at one minute to six that evening. His last words were reportedly 'That guy's gotta stop... He'll see us.'
His death sent Dean's already burgeoning cult of personality into the kind of overdrive he'd only experienced in life in his Porsche; even now, half a century later, aspects of his brief life from his
sexuality
to his apathy towards acting are endlessly discussed seemingly at every opportunity. For what it's worth, while there is some talk of a
curse
on Dean's car, at least there's never been any talk of a conspiracy surrounding his death. He is buried in Fairmount, Indiana (where he was raised) has been memorialized at various locations including the
junction
where he was fatally injured, and references to him are peppered throughout pop culture - from songs by the Eagles and the Goo Goo Dolls to
Robert Altman
's 1981 play-cum-1982 film
Come Back to the Five and Dime, Jimmy Dean, Jimmy Dean
, both of which were written by Ed Graczyk.
*
share on:
facebook