It takes considerable verve to scandalize the French; that Arthur Rimbaud did it so young and so thoroughly is as much a testament to his dedication as it is to his
anarchist
spirit...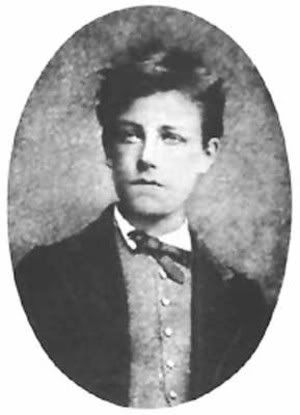 The writer - most famously of
Une Saison en Enfer
(
A Season in Hell
) and born on this day in 1854 - was a prolific poet as a young man, although by the time he was 20 he seems to have lost interest in poetry. He may in fact have burned out; he was soon better known as a prolific hellraiser, the quintessential
enfant terrible
. Even the French found him obnoxious, so you get some idea how fabulous he must have been.
Rimbaud's work defied the poetic conventions of the day (giving rise to both
Symbolist
and
Surrealist
movements) which outraged the intelligentsia, his unkempt appearance and
penchant
for opium and
hashish
chased with
absinthe
similarly shocked the bourgeoisie, and his brief, tempestuous love affair with the better-known married poet Paul Verlaine offended just about everyone else.
Their relationship lasted less than three years, taking them finally to London, and ended with Verlaine's arrest in Brussels. While imprisoned at
Mons
, Verlaine converted to Catholicism; they last met in Stuttgart in 1875 following Verlaine's release.
From 1875 until his death, Arthur Rimbaud seems to have cleaned up his act. Although he continued to explore much of Europe on foot, he also took regular jobs, and even managed to find time to join the Dutch Navy only to desert in Java. While working in Cyprus, Aden, and Ethiopia he seems to have kept only female lovers.
In May 1879 he contracted typhoid fever, but recovered. For Arthur Rimbaud the end of his rambles around Europe came in November 1891 following complications from the amputation of his right leg; he died in great agony at a hospital in Marseilles, attended by his sister Isabelle.
*
share on:
facebook