Christopher Wren (born in Wiltshire on this day in 1632) was a gifted mathematician and scientist with a relentless curiosity and a polymathic mind, whose work was said to be admired by such contemporaries as
Sir Isaac Newton
and
Blaise Pascal
.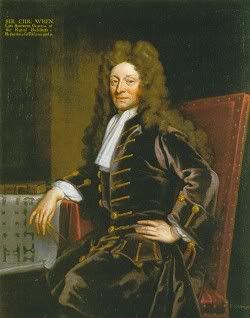 Already noted for his architectural abilities (having built Cambridge's
Pembroke Hall
and Oxford's
Sheldonian Theatre
) - not to mention co-founding the
Royal Society
- when the City of London
went up in flames
in
September 1666
, Wren was the first to submit cogent plans for the rebuilding of the City; in 1669 he was named Surveyor-General of the King's Works, with the responsibility of making a modern capital out of the smoking ruins of a medieval maze.
That year he married Faith Coghill; they had two children, Gilbert (who died young) and Christopher Jr., whom Wren began training as an architect from a young age. Wren was knighted in November 1673 by King
Charles II
.
The first Lady Wren died of smallpox in September 1675; he was remarried less than 18 months later, this time to Jane Fitzwilliam. Again, two children were produced - a girl named Jane who died in 1702 and a son named named William, who was born retarded. The second Lady Wren died of tuberculosis in September 1680.
Although a sickly child, Wren lived to be 90 in an age when it was an achievement to turn 50. He died in London in February 1723, having lived to see it mostly reborn from the ashes of 1666. His tomb within
St. Paul's Cathedral
is suitably opulent; still, there are those (myself among them) who feel the entire place ought to be considered his tomb. The greatest of the 54 London churches he built, and universally recognized as his masterpiece since its completion on this day in 1708 - Wren's 76th birthday- bears a suitably confident epitaph:
Lector, Si Monumentum Requiris Circumspice*
*Reader, if you seek his monument, look around you.

*
share on:
facebook