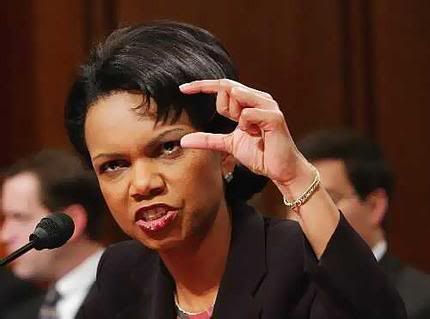 US Secretary of State
Condoleezza Rice
(shown here demonstrating how far the Bush Administration will go to protect civil liberties) has admitted that the United States government mishandled the case of Canadian
Maher Arar
.
For those not familiar with the case, Arar was detained by US officials on September 26th, 2002, and interrogated about his alleged links to al-Qaeda while in transit through New York's JFK airport when returning home to Montreal from a family vacation in Tunisia. While in US custody he was repeatedly refused access to counsel; he was also refused his right to choose his country of removal, as guaranteed to him under international law. Twelve days later, on
October 7th
, he was chained, shackled and flown to Syria, where he was held in a tiny "grave-like" cell for ten months and ten days and tortured into making a false confession before he was finally moved to a better cell in a different prison before finally being returned to Canada.
Both the Royal Canadian Mounted Police and the FBI knew he was not a terrorist, yet sent him to Syria knowing he would be tortured, possibly hoping he would be killed. Though he has been cleared of all charges by the governments of Canada and Syria, this is the first indication from the US government that their handling of him was a mistake.
All I can think is, the Republicans must be getting desperate to win the next election; unsure how to beat a Clinton-Obama ticket, it looks like their new-and-improved "Kinder, Gentler" pet Condi could kill two tokens with one stone.
[
S O U R C E
]
share on:
facebook