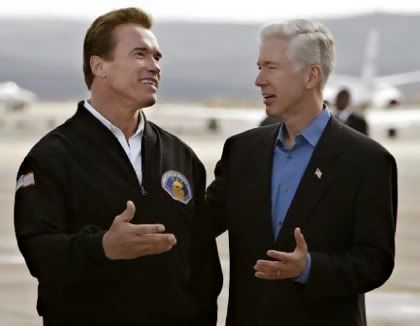 [
With Arnold Schwarzeneggar on the right and Gray Davis on the left - although the would-be Governator actually ran against fellow Republican State Senator
Tom McClintock
, Davis' Lieutenant-Governor
Cruz Bustamante
, blogger
Arianna Huffington
, former child star
Gary Coleman
and porn star
Mary Carey
as well as about 130 others - the
2003 Recall
election was one of the strangest on record. Even for California.
]
336 CE
- Pope
Mark
died, leaving the
papacy
vacant; his successor,
Julius I
, would not be elected until February 337 CE.
1542
- Explorer
Juan Rodriguez Cabrillo
discovered
Santa Catalina Island
off the coast of California.
1769
- Captain
James Cook
arrived in New Zealand during his famed
First Voyage
, heading only the second European expedition to the islands, more than a century after
Abel Tasman
; while in the vicinity Cook mapped the entire coastline, making only minor errors.
1840
-
Willem II
became King of the Netherlands when, following the loss of territory brought on by the
Belgian revolution
and the scandal of his desire to marry the Catholic Belgian
Henrietta d'Oultremont
, his father
Willem I
abdicated.
1868
-
Cornell University
was inaugurated in
Ithaca, New York
.
1886
- Spain
abolished slavery
in Cuba.
1919
- Dutch airline
KLM
was founded.
1944
- An
uprising
at Birkenau concentration camp resulted in the destruction of one of its crematoria; it had been coordinated with an Allied air strike and a revolt of Polish civilians at
Auschwitz
.
1949
- The German Democratic Republic - better known as
East Germany
- was created.
1950
-
Tibet
was annexed by China, an illegal occupation which persists to this day.
1952
-
American Bandstand
debuted on Philadelphia's
WFIL-TV
(now
WPVI-TV
); the show was originally called
Bandstand
, and its first host was
Bob Horn
.
1955
-
Allen Ginsberg
gave his first public reading of
Howl
at San Francisco's
Six Gallery
.
1982
-
Cameron Mackintosh
's musical
Cats
opened on Broadway at the
Winter Garden Theatre
where it ran for 7,485 performances before closing on September 10th, 2000.
1985
- The cruise ship
Achille Lauro
was
hijacked
by four Palestinian terrorists, in an action coordinated by
Abu Abbas
; during their three-day occupation of the vessel they shot passenger
Leon Klinghoffer
- a wheelchair-bound stroke victim who was nearly 70 - and threw him overboard to die simply because he was Jewish.
1996
-
Fox News Channel
was launched.
1998
-
Matthew Shepard
was found
staked to a fence
outside
Laramie, Wyoming
, having been robbed and savagely beaten by Russell Henderson and Aaron McKinney simply because he was gay.
2001
- The US and the UK
invaded
Afghanistan.
2002
- The US government, with the knowledge and cooperation of the
RCMP
, ordered Syrian-born Canadian citizen
Maher Arar
deported to Syria knowing he was not a terrorist and that he'd be tortured there; not only was he repeatedly refused counsel in American custody, when he was returned to Syria he was indeed tortured and held without charge for 10 months before being returned to Canada, at which time he proceeded to expose the
War on Terror
for the tyranny in liberty's clothing that it is. Both Canada and Syria have cleared him of all charges; the US won't.
2003
-
Gray Davis
was
recalled
as Governor of California, only to be replaced by
Arnold Schwarzenegger
. The recall effort was the fifth in California history - efforts to recall governors
Pat Brown
,
Ronald Reagan
,
Jerry Brown
, and
Pete Wilson
had all failed - but only the first successful one in the Golden State; the only other successfully recalled governor in American history was North Dakota's
Lynn Frazier
in 1921.
*
share on:
facebook