The 1970s was the last great age of the television variety show, and
Donny & Marie
stood tallest of them all;
The Osmonds
were a handsome, wholesome bunch of boys (of whom
Donny
was the heart-throbbiest) surrounding a perfect rose named Marie. Of course, Marie was never part of the Osmonds herself, but nonetheless has had a successful singing career anyway thanks to songs like
Paper Roses
.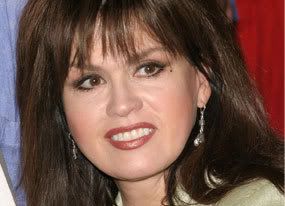 From the first, Marie made much hay of teen idol brother Donny, taking him down a peg in best baby sister fashion. Their banter was piquant - rather than sharp or harsh, unlike that of
The Sonny and Cher Show
- but still funny.
Over the years Marie Osmond has occasionally left the public eye - she has eight children, which accounts for much of that - but to the delight of her many fans she has always returned to us, even if, as in the case of her book
Behind the Smile
, it's been to discuss the severe
postpartum depression
she experienced.
In recent years divorce and a tragic fire which destroyed her home have occasionally brought Marie back into the news, but it's with her recent appearances on
Dancing with the Stars
* in which the newly-trim, vivacious Marie of old continues to wow us. In 2009 it was revealed that her daughter Jessica is a lesbian, and despite the homophobia of her Mormon faith Marie has been steadfast in support of her daughter; likewise, the February 2010 suicide of her gay son Michael Blosil set the blogosphere to buzzing, putting Marie once again into the difficult position of unconditionally loving her children in contradiction to the edicts of her church**.
Happy Birthday Marie, and may you have many, many more.
*In which she placed third.
**One theory, which may be mine alone, is that Marie had an easier time accepting her gay children because they were both adopted.
*
share on:
facebook