Burr Tillstrom
was present at the dawn of television, as the creator and creative force behind
Kukla, Fran & Ollie
; originally a show for the kiddies, it was soon being watched by more and more adults (among them the boldface names
Orson Welles
,
John Steinbeck
,
Tallulah Bankhead
,
Ben Grauer
,
Milton Caniff
, and
Adlai Stevenson
). For a solid decade the show was a genuine media phenomenon - it was, for instance, the first network television show to be broadcast in colour - and proved that with a quick wit,
a pretty lady
, and a couple of puppets, it's possible to conquer the world.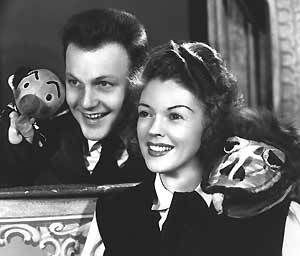 Which means all I need to do is develop a quick wit and find a pretty girl...
[Cue maniacal laughter.]
Wait a minute, what was I talking about? Oh yeah...
Originally appearing as
Junior Jamboree
on this day in 1947 (Tillstrom's 30th birthday) on
WBKB
in Chicago, the show was renamed
Kukla, Fran & Ollie
when it was transferred to
WNBQ
in November 1948. In January 1949 the show went national over NBC airwaves, and aside from a brief period in 1951 when it was reduced by half, the show ran 30 minutes a day, five days a week, until 1957.
*
share on:
facebook