Consider, if you will, the plight of Joyce Randolph...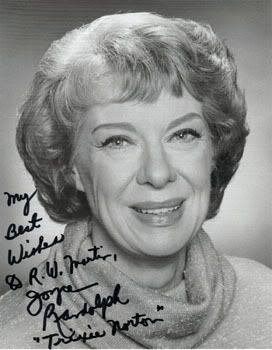 Fourth billed and forced to play third fiddle behind a booming tuba, a shrill harp, and a bassoon (or is that baboon? or maybe it's buffoon?) Joyce Randolph had the most thankless job on
The Honeymooners
. Most episodes she's lucky if
Trixie
gets one scene.
Nevertheless, she
did
get to play a part in one of the television era's first pop culture sensations. Not that she's the only person to play Trixie Norton - oh no; I've only just learned that Trixie was first played by
Elaine Stritch
, which about blows my mind.
Today the one-time Garbo of Detroit turns 86; long-retired from acting but not from performing, she currently serves of the board of the
USO
.
*
share on:
facebook