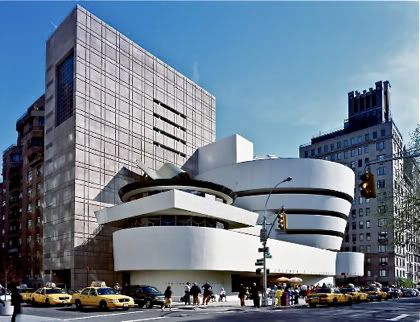 [
Frank Lloyd Wright's only New York Building was also his last commissioned work; the struggles involved in getting his design from the drawing board to the corner of Fifth Avenue and E. 89th Street are legendary, not least of which was challenging the orthodoxy of concrete boxes which were then the prevailing norm in Manhattan architecture.
]
1600
-
Tokugawa Ieyasu
defeated the leaders of rival Japanese clans at the
Battle of Sekigahara
, marking the beginning of the
Tokugawa shogunate
, which would rule Japan until the mid-nineteenth century.
1797
- The 44-gun US Navy frigate
USS Constitution
was launched at
Edmund Hartt
's shipyard in
Boston Harbor
; named by US President
George Washington
and one of six authorized by the
Naval Act of 1794
, she is today the oldest commissioned vessel afloat in the world.
1805
- At the
Battle of Trafalgar
, the Royal Navy defeated a combined French and Spanish fleet under Admiral
Pierre-Charles Villeneuve
; in striking at the heart of Napoleon Bonaparte's ambitions for the domination of Europe, Viscount
Horatio Nelson
inspired a burgeoning British Empire too fond of boats to have designs on European soil.
1816
- The
Penang Free School
- the oldest English-language school in Southeast Asia - was founded in
George Town
by the Reverend Sparke Hutchings.
1854
-
Florence Nightingale
and a staff of 38 nurses were despatched to the
Crimean War
... Although Nightingale's mission of mercy would prove a disaster - troops consigned to her field hospital at
Scutari
faced higher than normal mortality rates due mainly to the lack of hygiene - in her later years she learned much from the ordeal, and modern nursing would not exist in the form it does today were it not for her pioneering work.
1867
- The landmark
Medicine Lodge Treaty
was signed near the Kansas town of
Medicine Lodge
by leaders of
Kiowa
and
Comanche
nations, requiring them to relocate to a reservation in western Oklahoma. Another, with the
Plains Apache
, was signed later that day, while a third a week later sealed the Fates of the
Southern Cheyenne
, and
Southern Arapaho
.
1892
- Opening ceremonies for the
World's Columbian Exposition
were held in Chicago, though because construction was behind schedule, the exposition did not open until
May 1893
.
1895
- The short-lived
Republic of Formosa
collapsed as Japanese forces invaded the island now called Taiwan.
1921
- President
Warren G. Harding
delivered a speech which called for the abolition of
lynching
, apparently.
1944
- The first
kamikaze
attack was carried out when
HMAS Australia
was hit by a Japanese plane carrying a 200 kg (441 pound) bomb off
Leyte Island
, as the
Battle of Leyte Gulf
began.
1945
- Future tinpot dictator and flabby Argentinian strongman
Juan Perón
discovered what the term 'better half' meant when he married erstwhile actress Eva Duarte, a charisma monster soon to be renowned for her legendary portrayal of
Evita
.
1959
-
Frank Lloyd Wright
's only major New York City building - the
Solomon R. Guggenheim Museum
- opened to the public.
1966
- A coal tip avalanche
devastated
the Welsh town of
Aberfan
, killing 144, including 116 children aged 7 to 10.
1969
- A
coup d'état
in Somalia brought
Siad Barre
to power.
1977
- The
European Patent Institute
was founded.
1978
- Australian civilian pilot
Frederick Valentich
vanished while flying a
Cessna 182
over the
Bass Strait
south of
Melbourne
, after reporting contact with an unidentified aircraft.
1987
- Formerly the first Jewish
Miss America
,
Ed Koch
's best fruit-fly
Bess Myerson
was arrested for her involvement in an alimony-fixing scam; she was later acquitted.
1990
- The first
Apple Day
was held in London's
Covent Garden
.
1994
- 32 people were killed and 17 injured when Seoul's
Seongsu Bridge
collapsed.
*
share on:
facebook