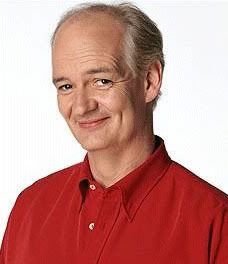 Born in Kilmarnock, Scotland, on this day in 1957, Colin Mochrie was brought up in Vancouver, where he was class valedictorian at
Killarney Secondary School
in 1975; Vancouverites, then, can be proud to call Canadian television's Mr. Nice Guy one of their own...
Mochrie first gained prominence on the BBC's
Whose Line Is It Anyway?
, where his strong improvisational skills and quick wit earned him kudos by the bushel; he was later a fixture on the American version of the show, and even before it went off the air in 2003 Mochrie had begun gradually insinuating himself into Canadian television - which should have, but utterly failed to, give him his start.
From his participation in the long-running news parody show
This Hour Has 22 Minutes
to sitcoms like
Blackfly
to game shows like
Are You Smarter Than a Canadian 5th Grader?
it looks like Canadian television may be poised to begin reversing the brain drain, one massive* brain at a time.
*And massively funny...
*
share on:
facebook