Armed only with a few of
Jim Henson
's
Muppets
and a dream, Joan Ganz Cooney revolutionized the way children were educated, demonstrating in just a few short years the integral part television can play in child literacy and numeracy if used correctly...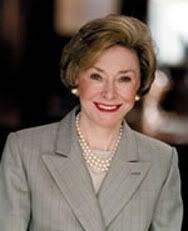 Born on this day in 1929, Cooney admits to a shy childhood (which she mainly spent reading books) and a happy adolescence.
Proving the formula Luck=Imagination+Timing, Cooney managed to become involved with the
Corporation for Public Broadcasting
at its inception; as founder of the
Children's Television Workshop
, Cooney is responsible for the creation of such classic kids shows as the aforementioned
Sesame Street
and
The Electric Company
.


Sesame Street
remains the gold standard in children's entertainment; now into its 41st season (it debuted in
November 1969
, just like me) with more than 4200 episodes to its credit, the show continues to grow and inspire children, bold and shy alike, to build their own happy adolescence.
*
share on:
facebook