There are only a few Canadians who make me proud to be a Canadian, and Joni Mitchell is chief among them; her soul-searching poetry, set to enticingly complex music, sets her apart from the many singer-songwriters she has inspired as surely as her willingness to take risks at the expense of her popularity elevates her above the rest...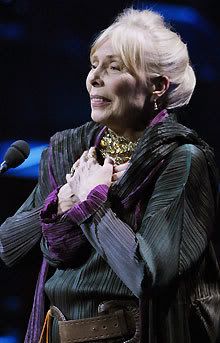 Mitchell (born on this day in 1943) is what I call a 'total artist'; not content expressing herself in only one medium - namely music - she is also a gifted painter, with a flair for colour and form which gives her work a variety of moods, from melancholy to piquant. Coincidentally, this is the same range of expression found in her music; the painterly quality of her songwriting and the lyrical quality of her painting seem to serve as refractions of each other.
Rising to fame during the folk revolution of the late 1960s Mitchell penned the immortal anthem
Woodstock
, then really hit her creative stride in the first half of the 1970s. Taken together
Ladies of the Canyon
(1970),
Blue
(1971),
For the Roses
(1972),
Court and Spark
(1974),
The Hissing of Summer Lawns
(1975), and
Hejira
(1976) constitute a musical achievement of which any recording artist would be proud.
During the latter half of the 1970s, Mitchell's sound took on a more jazz-infused sound, which diminished her popular appeal while further endearing her to critics, save for the album
Mingus
(1979), which is a challenging listen even for a rabid fan such as myself.
By the 1980s, she'd made a resurgence into a pop sound; despite what might be considered the mainstreaming of Joni Mitchell during these years, her experimentation and eclectic approach continued both lyrically and musically. At an age when many of her contemporaries were settling into their groove (or rut) Mitchell neither lost nor abandoned her creative restlessness. Mid-career albums like
Dog Eat Dog
(1985),
Chalk Mark in a Rainstorm
(1988), and
Night Ride Home
(1991) reached their zenith with
Turbulent Indigo
(1994), a collection of songs as elegant and eloquent as Mitchell at her early-70s peak.
Outspokenly critical of the record industry from day one, Joni Mitchell has thankfully persevered, managing to produce a body or work meant to stand the test of time, rather than simply being a flash in the pan. Whenever I hear that someone is 'just getting into Joni Mitchell' my heart fairly thrills, for I know what utter bliss lies ahead of them; I greet each new album from her with the same sense of joy, for I know it will be a challenging new chapter in the life's work of a living legend.
*
share on:
facebook