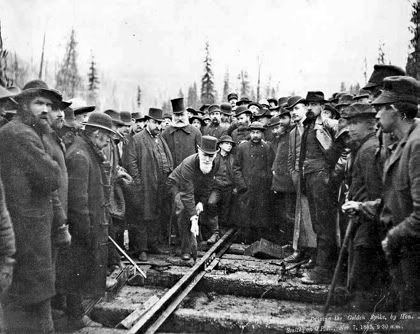 [Actually, Sir Donald Smith had to drive in two last spikes on
this day in 1885, as he bent the first one; fortunately he
only financed the railway, and didn't build it.]
1492
- The Ensisheim Meteorite - the oldest meteorite with a known date of impact - struck the Earth around noon in a wheat field outside the village of
Ensisheim
, in the Alsace region of France; it is still preserved there in the Regency Palace.
1665
- The
London Gazette
- the official record of the British government and the oldest such publication extant - was first published.
1786
- Pupils of the composer
William Billings
founded the
Stoughton Musical Society
in Boston, making it the oldest musical organization in the US.
1848
-
Whig
Zachary Taylor was
elected
12th US President over Democrat
Lewis Cass
.
1876
-
Rutherford B. Hayes
was
elected
19th US President over Democrat
Samuel J. Tilden
.
1885
- Construction - begun in 1881 - ended on the
Canadian Pacific Railway
with the driving of the
Last Spike
by Sir
Donald Smith
, in
Craigellachie
, British Columbia. The promised railroad had been key in bringing Canada's westernmost province into
Confederation
in 1870.
1916
-
Woodrow Wilson
was
elected
to a second term as US President over Republican
Charles Evans Hughes
.
1929
- New York City's
Museum of Modern Art
opened to the public.
1932
-
Buck Rogers in the 25th Century
aired on radio for the first time.
1933
-
Fiorello H. LaGuardia
was elected the 99th mayor of New York City.
1940
- In Tacoma, Washington, the middle section of the
Tacoma Narrows Bridge
(known as '
Galloping Gertie
') collapsed in a windstorm, a mere four months after the bridge's completion.
1944
-
Franklin D. Roosevelt
was
elected
to an unprecedented fourth term as US President over Republican
Thomas E. Dewey
.
1967
-
Carl B. Stokes
was elected mayor of Cleveland, Ohio, making him the first black mayor of a major American city.
1972
-
Richard Nixon
was
elected
to a second term as US President over Democrat
George McGovern
.
1983
- A concealed bomb
exploded
inside the
U.S. Capitol Building
outside the
Senate Chamber
, causing $250,000 in damages and ruining a portrait of
Daniel Webster
; since the Senate had been adjourned for nearly four hours at the time the corridor where the explosion occurred was empty, and no one was injured or killed.
Marilyn Buck
,
Laura Whitehorn
, and
Linda Evans
were later sentenced for their part in the blast, as well as other bombings at
Ft. McNair
, and the
Washington Navy Yard
.
1989
-
Douglas Wilder
won the gubernatorial election in Virginia, becoming the first elected black governor in the United States.
1990
-
Mary Robinson
became the first woman to be elected
President of the Republic of Ireland
.
1991
-
Magic Johnson
held a press conference to announce that he was infected with HIV; he thereupon retired from the NBA.
2000
-
George W. Bush
was 'elected' 43rd US President over Democrat
Al Gore
(although the controversial results would not be verified until January 6th, 2001, when the electoral college votes were ratified during a raucous joint-session of Congress - just two weeks before the inauguration); in the same election
Hillary Rodham Clinton
was elected to the
United States Senate
, becoming the first former
First Lady
to win a public office in the United States.
*
share on:
facebook