The legendary beauty of Hedy Lamarr has never been questioned; in the years since her death, though, it's the beauty of her mind that's come increasingly to the fore...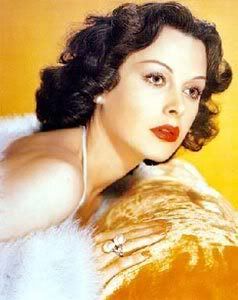 Early in her career she starred in what is popularly considered the cinema's first nude scene - in the Czech film
Ecstasy
(1933) - which is actually notorious as the first to depict sexual intercourse and female orgasm on screen,
not
nudity (although it does have a prime example of
that
). Later, at the height of her fame, she and her second husband
Gene Markey
patented
spread spectrum
, an essential component of today's mobile phone technology, which plans she developed with her first husband, the Austrian arms manufacturer
Friedrich Mandl
.
Born on this day in 1913, she made her film debut in 1930; Lamarr, who was Jewish, escaped her fascist first husband and the Nazi threat in 1937, dripping in the jewels he'd given her and with the plans they'd worked out together. Legend has it that during her flight she hid in a brothel, even going so far as to have sex with a client there in order to conceal her identity. Arriving in London, she obtained her famous surname from
Louis B. Mayer
, who named her after the tragic silent movie actress
Barbara LaMarr
; previously she'd been known professionally as Hedy Kiesler.
Newly renamed, Hedy Lamarr's first American movie was
Algiers
(1938) opposite
Charles Boyer
; her biggest film role was as
Delilah
in
Cecil B. DeMille
's
Samson and Delilah
(1949) with
Victor Mature
. She also appeared in
Tortilla Flat
(1942), based on the novel by
John Steinbeck
. Frequently cast against type, she often portrayed devastatingly beautiful temptresses.
Having made off with hearts (and technology,
and
jewellery), Lamarr was subsequently arrested for shoplifting, first in 1965, and again in 1991; she died in January 2000.
*
share on:
facebook