An ageing heir to the throne, unpopular as his mother was revered, who attracted the public's ire by preferring the company of his mistress to that of his younger wife - herself a neurotic beauty viewed by the public as an almost holy icon... There are few writers as bereft of original ideas as History.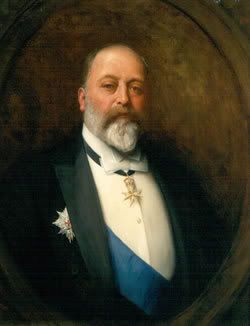 Yet for a man who was viewed as a dissipated dilettante right up until the moment he became King, the life and times of Edward VII offers many potential lessons to his modern-day counterpart. Though his apprenticeship was long and his subsequent reign short, he accomplished much in the just over nine years allotted to him on the throne, not least of which was the rehabilitation of his own image. The age in which he reigned was given his name - the
Edwardian
- and it stands as a last golden hour before the horrors of the 20th Century beset Europe.
Born on this day in 1841 at
Buckingham Palace
, the second child of Queen
Victoria
and
Albert, Prince Consort
, he was created
Prince of Wales
a month later - a title he would hold for nearly sixty years. He was known within the family as Bertie as his name at birth was Albert Edward.
His marriage in March 1863 to his fourth cousin Princess
Alexandra of Denmark
(daughter of the future
Christian IX
) was arranged in the fashion of the day, supervised by his elder sister
Victoria, Princess Royal
, the future Queen of Prussia. In no time at all a fashionable social set formed around them, with its twin foci at their London residence,
Marlborough House
and in the Norfolk countryside at
Sandringham House
. After December 1861, and because of his mother's melodramatic widowhood (during which she refused to appear in public) he endeavoured to carry out many of the royal duties the grieving Queen would not. In this sense he can be said to have saved the monarchy by keeping it from becoming too remote. The Princess of Wales, too, carried out many engagements on behalf of children and the sick; she was also a renowned patroness of the arts.
Always a ladies man, the Prince maintained a stable of mistresses throughout his lifetime, including actress
Lillie Langtry
, Lady
Jennie Churchill
(mother of
Winston
and wife of Lord
Randolph
),
Daisy Greville, Countess of Warwick
, actress
Sarah Bernhardt
, dancer
La Belle Otero
, and wealthy humanitarian
Agnes Keyser
; the one who was at his side when he died, however, was
Alice Keppel
, whose great-granddaughter
Camilla Parker Bowles
succeeded in snaring herself a royal mate where she had failed.
*
share on:
facebook