Best known for her portrayal of Florida Evans - first on
Maude
, then later on
Good Times
- Esther Rolle was as ill-suited to the shallow vocation of the sitcom as CBS seemingly was to giving that sitcom the challenging story lines it deserved...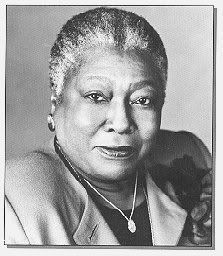 Born on this day in 1920, the 10th of 18 children (strangely enough, in Florida) Rolle moved to New York City to attend school - first
Hunter College
, then
Spelman College
, and finally the
New School for Social Research
.
She made her acting debut onstage in 1962's
The Blacks,
and thereafter acted with
Negro Ensemble Company
. In 1972 she was cast in
Maude
, and after one season her character - slightly reworked - was spun off into her own show,
Good Times
.
Good Times
was a trail-blazer for network TV; set in a black household in the
Cabrini-Green
projects of Chicago, the show costarred
John Amos
as Rolle's TV husband,
Jimmie Walker
as
J. J.
,
Bern Nadette Stanis
as
Thelma
, and
Ralph Carter
as
Michael
. For comic effect, Florida's best friend and neighbour
Willona Woods
was played by
Ja'net Du Bois
. Both Rolle and Amos absented themselves from later seasons when it became clear that the network was prepared to squander the opportunity it created to be socially relevant, preferring to exploit the popularity of Jimmie Walker. It would be a rare lapse in judgement for the show's pioneering producer,
Norman Lear
...
Rolle took
occasional roles
through the 1980s and 1990s, both on stage and screen; she died in November 1998, nine days after her 78th birthday.
*
share on:
facebook