The founding editor of
The New Yorker
was a mass of contradictions; his brash personality and occasional philistinism clashed with the sophisticated tone and intellectualism of the magazine he created and launched in 1925. He was, in the words of his successor, 'a genius in disguise'...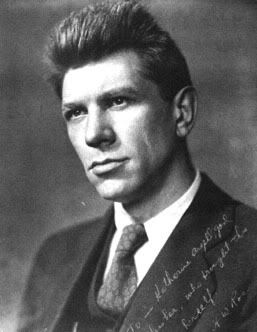 Born on this day in 1893, Ross began his career as a journalist writing for newspapers beginning in high school; by 1918 he landed a job with
Stars and Stripes,
where he made many influential contacts that would come in handy later:
Alexander Woollcott
,
Cyrus Baldridge
,
Franklin Pierce Adams
, and
Jane Grant
, who would become his first wife in addition to helping him co-found what was then an entirely new kind of publication. Through Woollcott many members of the
Algonquin Round Table
would come to write for him as well.
The New Yorker
was a success nearly from its inception; having survived six turbulent months at the outset, the magazine went on to weather the worst years of the Great Depression with an increase in both subscriptions and ad revenues, mainly due of course to the exceptional talent on staff, including
James Thurber
,
E. B. White
,
Katharine S. White
,
S. J. Perelman
,
Janet Flanner
(aka 'Genet'),
Wolcott Gibbs
,
John O'Hara
,
Robert Benchley
, and
Dorothy Parker
. Much of Ross' success as an editor can be credited to his knack for spotting and nurturing talent in writers, although he often did so in a bullying manner.
Ross died in December 1951, at which time he was replaced by
William Shawn
; during his tenure as editor, Harold Ross personally oversaw 1,399 issues of
The New Yorker
.
In 2006 the whole of the magazine's output - 4,109 issues published over 80 years from February 1925 - were put onto DVD-ROM and sold as a set, one of which was snapped up by the Pop Culture Institute for its archive; it currently resides next to a companion coffee table book and CD-ROM collection of cartoons from the landmark publication, released the previous year. Together they bring to light not only Harold Ross' brilliant idea - that being a New Yorker is a state of mind rather than a geographical situation - as well as his life's work.
*
share on:
facebook