Maybe it's just my natural cynicism talking, but there's something about the homespun aw-shucks folksiness of Will Rogers that's never sat right with me; he is most famous for saying 'I never met a man I didn't like', yet every time I hear it my bullshit-detector starts a-quiverin' somethin' fierce. I mean, I am well into men, and I've met literally
thousands
of them I fairly despise...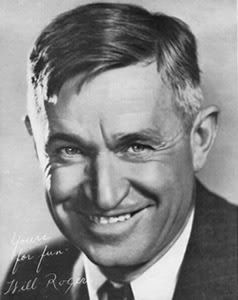 Of course, he is a product of a different time and place than I am, which is the same Will Rogers-esque homily I often use to explain away any incongruities I might encounter, wherever whenever and in whomever I might encounter them.
Born on this day in 1879, Oklahoma's favourite son never let a lack of interest in book-learning slow him down; he left the
Dog Iron Ranch
where he was born (near present-day
Oologah
, Oklahoma) in 1901, setting out for Argentina, where he planned to be a gaucho. When that plan fell through, he headed to South Africa, where he broke horses for the British until the end of the Boer War.
Once his services were no longer needed, he hired himself out to a series of circuses - visiting Australia in the process. By the time he returned Stateside a few years later he was already a seasoned performer, doing tricks with a lariat while discussing the news of the day in a gentle, conversational tone and with a commonsensical insight which was in every way wiser than (and therefore preferable to) the more overtly intellectual (and therefore somewhat off-putting) approach favoured by the other pundits of that era.
By 1915, Rogers was appearing in
Florenz Ziegfeld
's
Midnight Frolic
, a nightly revue at a cabaret built on the top floor of the fabled
New Amsterdam Theatre
in the heart of
Times Square
, which was then the epicentre of American show business; contacts he made there quickly became fans, and those fans in high places were to serve him very well indeed as he made his way from stage to screen and then to radio.
Friend to Kings and cowboys, Presidents and postmen alike, when Rogers died in
August 1935
at the outset of a round-the-world flight with his friend
Wiley Post
, it was said to be the greatest single outpouring of public grief America had seen since the death of Lincoln; to this day tributes to him abound throughout Oklahoma and beyond. He's been
revived
on Broadway (portrayed by
Keith Carradine
) and lives on through the magic of
DVD
, even within the collection of the Pop Culture Institute, which is curated by none other than cynical old me.
*
share on:
facebook