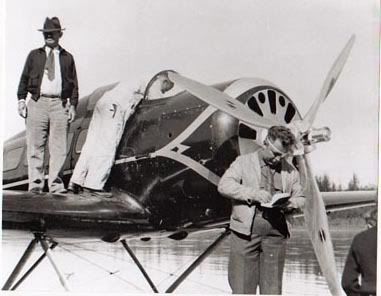 At the time of their deaths on this day in 1935,
Wiley Post
was as beloved for his aeronautical derring-do as his friend
Will Rogers
was for his insights into world affairs. As seen here, that's Rogers in the hat and tie, standing on the wing.
They died just outside
Barrow, Alaska
in an entirely preventable disaster, at the outset of a flight around the world. There are three monuments to the friends there; the airport in Barrow is named for them, and there are a pair of markers closer to the crash site, one of which they share with Alaska's victims of World War II.
*
share on:
facebook