Designed by architects Edward Lippincott Tilton and William Boring, the
Ellis Island Immigrant Station
opened on January 1, 1892 and was closed on this day in 1954, but not before more than 12 million (and as many as 20 million) immigrants were inspected there by the US Bureau of Immigration.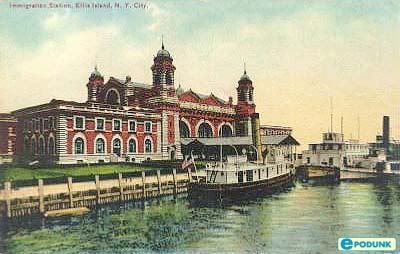 Only third-class passengers were processed here, and after 1924 only refugees; those arriving were screened for illness (both physical and mental), criminal records, and work skills. About 2% were rejected, and untold numbers died in the adjacent hospital.
The first immigrant processed through Ellis Island was
Annie Moore
, a 15-year-old girl from
County Cork
, Ireland; the last was a Norwegian merchant seaman by the name of Arne Peterssen in 1954. Today, over 100 million Americans have an ancestor who passed through the site on their way to a better life; famous Ellis Islanders include
Bob Hope
,
Irving Berlin
,
Knute Rockne
,
Pola Negri
,
Anna Q. Nilsson
,
Claudette Colbert
, Chef Boyardee (
Ettore Boiardi
),
Erich von Stroheim
,
Felix Frankfurter
,
Father Flanagan
,
Joseph Stella
,
Jule Styne
,
Charles Atlas
,
Isaac Asimov
,
the Trapp Family Singers
,
Ezio Pinza
,
Ludwig Bemelmans
,
Sig Ruman
,
Bela Lugosi
,
Charles Chaplin
,
Stan Laurel
,
Arthur Murray
, and
Max Factor
.
Today the site is a park, museum, and national historic monument.
*
share on:
facebook